My bondage  ·   Childhood and youth  ·  Captured in East Germany  ·  Midlife  ·  Retrospection in old age
                                                                                                                                                  (in preparation)
A brief outline of how and when I became acquainted with bondage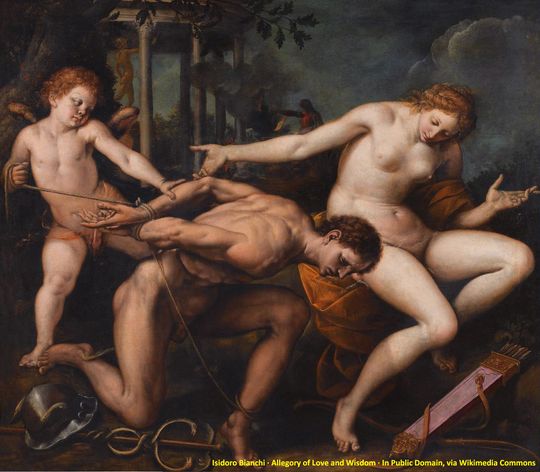 Isidoro Bianchi di Campione · Allegory of Love and Wisdom · Created 2nd half of 17th century
     Perhaps I had already been fascinated by the umbilical cord in my mother's body, because cords became part of my existence early on.
     As a six-year-old, I started wrapping my hands in the cord of the jalousie. It was a deliciously arousing daily game after school during the obligatory nap. At one point, while tightening the cord, the jalousie popped out of its moorings. At the noise, my mother rushed over. The blind was quickly back in place. In the restored semi-darkness, a sturdy specimen of cane painfully reminded me what nap time means: rest – don't fidget!
     At the age of ten, I was already so adept at tying my hands behind my back that it was almost impossible to free myself. My sister had no patience to untie the knots. She cut me loose. I often spent all my pocket money on laces.
     Despite taking great pleasure in the past and looking stoically to the future, I am always firmly anchored in the present and live in multiple worlds. According to Leibniz, each of them always presents itself as the best possible one. In today's lust-driven times, I venture to guess that he might have included his own lifestyle in this universal consideration. Of course, this could also have included bondage games. Voltaire, who made fun of the theory of the best possible, I consider the more fun-loving of the two philosophers. I absolutely trust him to have been familiar with bondage games. For his hero Candide, who takes every good idea ad absurdum, is tied up by savages, almost eaten, and gets spanked, while his friend Pangloss is hanged by the neck.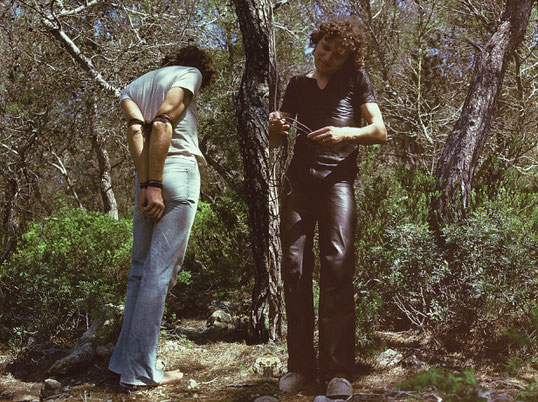 During my training as a bookseller, I soon came across the literary story that candidly describes in detail how a man is tied up and whipped by a woman at his own request. Leopold von Sacher-Masoch, strongly inspired by his real life, established sadomasochism as a concept in this way with his novel Venus in Furs (1870).
     This inevitably led to the great psychologists Ferenczi, Freud, Adler and C. G. Jung, whom it was virtually obligatory to study in progressive circles at that time. Apart from the basic information and theories regarding norm deviant behaviour, it threw me back to my modest activities with self-bondage as I lacked a teammate. But in terms of my own eroticism and sexuality, which obviously had something to say about being tied up, I learned a lot from Alfred Kinsey's work, Sexual behaviour in the human male (1948).


     When I left the German homeland for an attractive job, I soon met the woman of my life, my beloved Sabine. She had also learned the book trade and, because of her talent, had resolutely added the subject of art dealing. Any thought of being tied up by her or even tying her up was completely suppressed by our common, far-reaching interests. Especially as I began to doubt whether it was a thread of vital desire, as I had assumed in youthful confusion of feelings, or only relics of romantically idealised childish games of cops and robbers.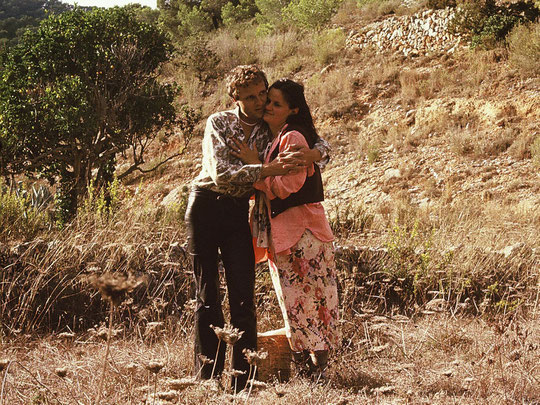 In hippie-era Ibiza, a well-travelled freak left me a booklet bilingual Japanese and English on the Samurai art of Hojojutsu. The drawings, obviously made by artists of the time, show prisoners tied up so cruelly tight that an uninvolved viewer might feel sorry for them. On the other hand, it makes clear the sophisticated restraints for almost literally suffocating physical mobility. Much of the rope technique is still too complicated for me today, and some of it I consider too dangerous. But the basic patterns spurred me on to work out more solid self-restraints than those practised so far. The by-product became simple, aesthetic picture series in a kind of photographic protocol.
     Uke and Tori* face each other in combat and yet are peacefully united in the same person. The photos had been exhibited in autumn 1978 under the topic Secret Lives in the gallery of the same name in Ibiza Town which goes well with my collection. The strongly narcissistic images on black-and-white and colour 35mm film material were first digitised and published in 2007 and have been flickering through the internet ever since. They are often copied and now cavort cheerfully in many erotically influenced corners of the World Wide Web.
     In this strongly Mediterranean-influenced phase of life, I discovered my receptivity to the relaxing character of highly simple bonds which helped to relieve stress in times of extreme tension. On the Balearic Islands we had woods with pine trunks of all strengths not far from the front door. I wrapped my arms backwards around a tree and cuffed them. Forced to pause and rest, many a problem that had arisen in the course of professional work was solved by careful reflection. Sabine brought me the handcuff key after an hour or two. That is, unless she was chatting away over a glass of wine somewhere. Then sometimes I was stuck for a damn long time.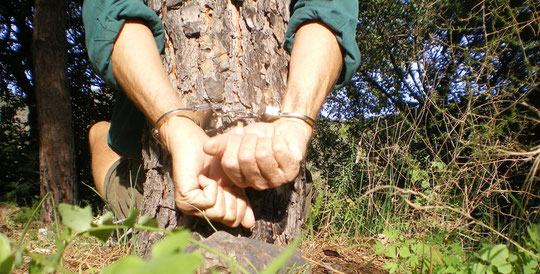 Since time immemorial, there have been ropes made of plant fibres and straps made of leather that serve to bind something together tightly and permanently, with human limbs being no exception. In this respect, Assyrian boys certainly already used the materials playfully and tied each other up with them, the hoary pleasure of the captor with the captive. There are images of this carved in stone and recorded on papyrus. However, we do not know whether bondage was also a sporting pastime at that time, in addition to its martial application, or whether the effect of shackling on body and mind already had something enigmatic about it, an inexplicable erotically tinged mystery, inexplicable like life itself.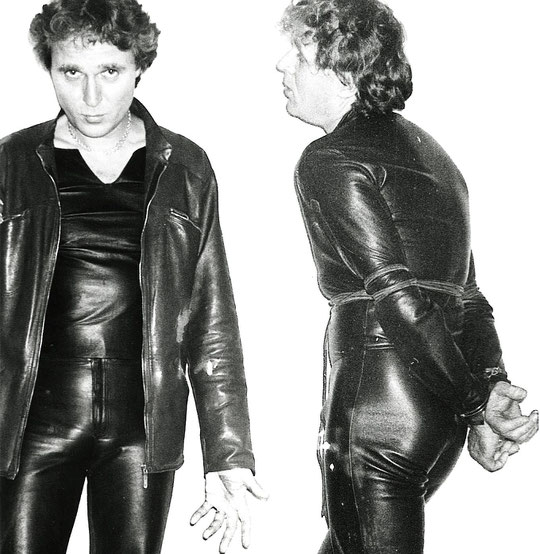 * In martial arts, Tori is called attacker, Uke is called defender. Accordingly, in the flowing events of combat, the roles change continuously. In bondage, the roles of active agent versus passive acceptor or sufferer are statically predetermined in an event aimed at submission. 
© Harald Bergander · 2022
My bondage  ·   Childhood and youth  ·  Captured in East Germany  ·  Midlife  ·  Retrospection in old age
                                                                                                                                                  (in preparation)