My bondage   ·  Childhood and youth  ·  Captured in East Germany  ·  Midlife  ·  Retrospection in old age

                                                                                                                                                  (in preparation)
Midlife · Martial arts and bondage games between Uke and Tori *

~ Dedicated to Jean-Yves ~
     During my apprenticeship as a bookseller, there were still games with Hans-Rainer from time to time, but for me always passively as Uke. He probably wanted to avoid me fiddling with him as Tori when he was tied up. Maybe I would have done that at some point, but I had already sufficiently informed myself with various boys about the dimensions of their sexual stuff. With the reassuring result of finding parts of almost the same size in all of us.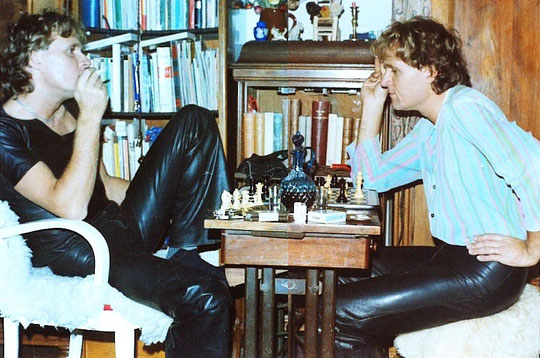 * In martial arts, Tori is the attacker, Uke the defender, which can change at any moment. In bondage games, the roles of the dominant and the submissive partner are per se unchangeable and clear to distinguish.
     Hans-Rainer got married a few days after my bookseller's exam. During my subsequent internship, I began a long dry spell in terms of bondage, apart from occasionally putting myself in chains. That's when I had the idea for an electromechanical key-holder. The hour hand of an alarm clock would close a contact on the twelve, triggering a relay that interrupted the current flow to the magnetic coil on which the keys stuck, so that they fell down next to me. The electrical part with a 4.5 volt battery worked straight away, but the contact above the digit twelve, which the minute hand should close, could not be realised precisely enough. Sometimes the minute hand did not close the contact and I had to spend another hour in shackles beyond the set one, or even an indefinite period until the battery's energy was exhausted.
     In 1968, a colleague put me in touch with a bookshop in Madrid. When the boss called me and asked when I could start working for her, I didn't need to be told twice. The foreign culture took up all my energy. So I completely forgot about being tied up for quite a while.
     James Michener's cult book Iberia (1968, Random House) with the famous black and white photos by Robert Vavra became my travel guide, taking me around the country by train on days off: to El Greco in Toledo, to Saint Teresa in Ávila, to Unamuno's Salamanca and Ernest Hemingway's Pamplona. There, I was less tempted by the bullfights than by a detour to Atlantic San Sebastián on the Bay of Biscay, known for bad weather with violent storms. As I had fallen asleep and my ticket had expired, the police in Irún on the border with France were surprisingly lenient in asking me to get off. The train back to San Sebastián left an hour later. So I strolled through the town and then couldn't believe my eyes: in the window of a gun shop, a pair of handcuffs lolling like massively formed silver jewellery.
       Apparently, martial equipment was part of everyday life for the Basques, who were in a clinch with the separatist ETA on both sides of the French-Spanish border. The gunsmith was content with a glance at my passport and collected the 240 pesetas written on the price tag without the occasionally customary surcharge for foreigners. Then he clarified that the handcuffs should certainly only be used in my home country, because in Spain civilians are forbidden to possess them.

     A long-cherished wish had come true. The handcuffs and I became friends right away. Their very directional inscription LLAMA (flame, passion) spurred me on to some serious play on the very next day off, a Wednesday. I went by train to Robledo, a small town in the Sierra de Ávila with clear, fresh mountain air at an altitude of 900 metres. In the village I fortified myself with a coffee and hiked leisurely uphill for about an hour through the heavily wooded, rather lonely landscape. At a place with a view into the valley, I soon found a convenient tree in the low bushes. As a hearty welcome, it dropped a pine cone.
     I put the two keys on two branches of a bush that surrounded the tree and could be reached tied up without contortions. After sitting there for a while to see if it was comfortable enough, I chained my hands together behind the trunk. It was a wonderful feeling to be tied up in the middle of nature, and soon, tired from the steep climb, I must have dozed off a little. When I woke up again, my arms were aching from the brittle tree bark. Liberation was called for. But no matter how carefully I scanned the bush with my fingers, the keys were gone.
     A break of sweat was the result. The pulse ran twenty beats faster. Had a gust of wind swept the keys to the ground? Hardly! After all, there was no wind. I had probably brushed them off myself, unnoticed, to escape the bushes that constantly caressed and tickled my hands. But the keys were not to be found on the ground either. I had to slide around the trunk to see where they were. And that was exactly what didn't work! My arms were like glued around the tree because I had closed the handcuffs too tightly. Miles away from any village, calls for help were futile, and in those days hikers were only to be expected in such lonely areas at weekends.
     It was only a few years ago that I condensed this life-threatening situation along with other bondage related memories from youth into a novel. I'm sorry to say that the book is available only in German. The adventure in the Sierra de Ávila taught me respect for professionally used handcuffs. Form and thickness of the material is constructed in such a way that even a Hercules tied up with it would lose out in a test of strength. Any foolhardy attempt could result in injury or even break your wrists. On the whole, I received a very strong warning not to repeat such rash actions. Bondage positions like being handcuffed to a tree require a play partner.

     I also had to continue without a partner like Hans-Rainer during the Madrid years. Perhaps I had too little communicative talent to find someone with an interest in bondage. But the professional change from bookselling to translating left me hardly any time to do bondage myself. How should I then spare the time for the search for a fellow player?
     Anyway, my technique of self-bondage became more and more sophisticated. On the next trip to Irún I had bought a second pair of LLAMA, since they also fit around the feet. With a chain between the wrist and ankle cuffs and one or two shackle locks, a wide range of positions up to hogtie is possible. I became my own guardian of the time frame in a session. As soon as I had had enough, it was a matter of crawling across the floor on my butt to get hold of the keys deposited in a corner of the room. With the gym bag over my head, the lacing of which around my neck I could not reach with my hands tied behind my back or tightly to my feet, I often got lost and was usually sweating wet until I got free again.
     From Madrid, I moved to a company in Las Palmas in the Canary archipelago. Due to my job, I became acquainted with a Spanish ship's engineer. We often discussed and compared our living conditions over a beer in the evenings. My father had followed my mother in the meantime and had also died much too early. Roberto was the age of my parents and possessed their easy-going attitude towards all the vicissitudes of life. No wonder we soon became friends.

     Of course, he showed me his workplace, a relatively small Compañía Trasmediterránea ferryboat that served the route from Las Palmas G.C. to the Spanish Western Sahara. I asked if there was also a cell for rioters. "There is one in all our barges", he explained, led me down several stairs deep into the belly of the ship, opened a steel door and pushed me into the tiny cabin. The door slammed shut and a latch clicked. Ten minutes later Roberto was back. "The other day we were talking about handcuffs", he reminded me. "You said you've never worn them before. Whether you lied to me or not, you're going to feel them now." The confinement in the pitch-dark cell with my hands behind my back probably lasted about an hour. To me it seemed like eternities. Apart from the distant hum of the ventilation rotors, there was silence. What all had I entrusted to Roberto in my exuberant mood? The steel shackles pinched hard into my slender joints as if with great promise for the future.

     Roberto took me back on deck in handcuffs. While he fetched the key from the bridge, a sailor my age scoffed that a rope around my hands didn't need a key. He felt my barely muscular arms with a rough grip and pulled a thin rope from his trouser pocket. "Hey Yeray ...," Roberto shouted, "Get to work! Harry's been tied up long enough today". The fellow gave me a regretful look and disappeared.
     At the next evening drink, the ship's engineer suggested that as soon as I had a few days to spare, I should accompany the crew on a trip to the Mauritanian border. The stops in El Aaiún and Villa Cisneros would give me a real sand desert experience. Mindful of my professional requirements, I had to cancel at first, although I wanted nothing more than for him to lock me in the cell for rioters overnight. "And if you like, I'll buy you a pair of our handcuffs. You wouldn't get this security model otherwise. The manufacturer prohibits the sale to private persons."
     When he slipped me the box a few days later, he said that I owed him nothing and that he could chalk up the purchase to professional use. But he would be happy if I could go swimming with Yeray. The big boy was still living in a musty parental home, he said, but was on the verge of working in Germany and was hoping for advice from me to do so. "Besides, I suspect you two were born with something very special. For that reason alone, you should get to know each other better."
       A few days later we met. Yeray wanted to go by bus to a rocky bay near Agaete. I insisted on riding my light Honda. Otherwise we would have had to walk quite a distance from the bus stop. Since he had never ridden a motorbike before, we did a few practice laps, which made him confident that he could make the thirty kilometres to the west of the island if he was allowed to put his arms around my body. By midweek, the beach was empty except for a few old men apparently looking for flotsam and jetsam. Nevertheless, I chose a spot far away among the rocks, where hardly anyone would follow us, and looked forward irrepressibly to being tied up with rope again for the first time in ages.
     "You're first!" Yeray pulled thin ropes from his shoulder bag. "No, Yeray, you!" He shook his head and grinned as cheekily as he had done on the ship. "Harry, you were ripe for being tied up on deck. There's no Roberto here to protect you. Shall I wrestle you down?" He was heavier and stronger than I. Stubbornly I said, "I'd like to see if you can take me." He was already clutching my neck. He slid his other arm between my legs, lifted me up while my marbles protested in pain, and threw me into the sand. In no time he was sitting on me, tying my hands and arms. The feet were also done. Then he dragged me across the sand to the rocks and leaned me against them. He put the leather trousers over my outstretched legs and the bath towel over chest and shoulders. No one could see what was wrong with me.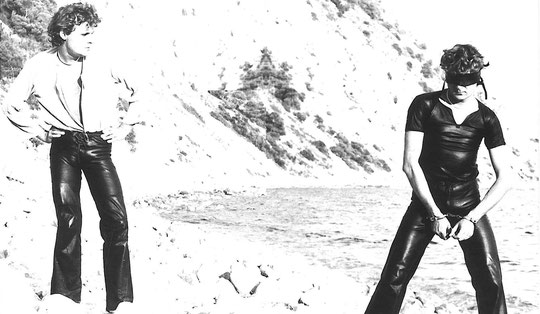 "I swim out a good distance. It will take half an hour. That's what we're here for." "What if someone kidnaps me?" Yeray rolled his eyes. "I know this not-so-paradise beach like the back of my hand. There are only locals here, none of whom would be worth kidnapping. You most likely aren't either." He grabbed me roughly by the hair and forced me to look at him. "Tied up, we live out morbid desires and pathological cravings. That just happens to have risks. Okay?" "Okay," I said, confused about pathological desires. I had always thought of bondage as something out of the ordinary, but not at all pathological. I thought my father would have told me if he had been convinced that my interest in ropes, chains and handcuffs sprang from a sick mind.
     As quickly as he had tied me up, Yeray untied me. Soaking wet and lamb-like, he stood expectantly in front of me. As I made him sit cross-legged and tied his feet, I noticed his stiff cock despite the loose swim shorts. "Don't mind it," he begged softly. "I'm not gay. But you'll get me up anyway." A kiss on the cheek brought tears to his eyes. That had happened to me the first time the twins had tied me up in the GDR and I had started to cry from sheer joy. They solved the situation by tying my short leather pants around my head – so now I pulled my long leather trousers over Yeray's head.
     "Wow!" he said in confusion. "Do I get enough air?" "Sure. It's only when I lace up the trouser leg over your head and around your neck that you'll soon run out of air. Yeray, now I could do whatever I want with you. That's how dangerous bondage becomes when you're completely helpless. But don't worry! No one has ever suffocated in my trousers." Yeray laughed merrily. "Man, what a day! Me with my head in your leather pants... Why didn't we meet earlier?"
     I went for a swim and thought: Almost too good to be true! When I came back, Yeray had managed to get rid of my trousers. That's exactly what gave me the idea of a hood with small openings in front of the mouth and nose, loosely strapped around the neck, a piece of tailored black leather that provides complete darkness and is impossible to remove from the bound prisoner. As we parted, we embraced intimately. "See," Yeray said, "that you can join us soon. I will take care of you. You will be tied to a pole. After the sand desert in El Aaiún you will see the water desert and at night, the starry desert. Agreed?"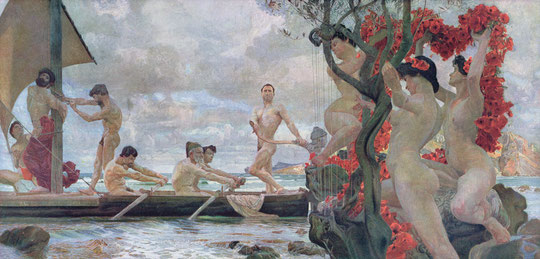 Otto Greiner · Ulysses and the Sirens · ca. 1900
     Two days later, my boss sent me to Madrid. The planned three weeks for the intermezzo turned into three months. Back in Las Palmas, I learned that Roberto had been transferred to Barcelona within Trasmediterránea. Yeray had resigned and, as far as anyone knew, was on his way to Germany. So, in terms of a continuation with him, it had indeed been too good to be true.
     Perhaps this circumstance played a part in the fact that I was getting more and more tired of the exhausting work in the construction company among all the technicians. But a letter from Sabine tipped the scales. She wanted to give up her job at the Junge Generation gallery in Vienna, take two or three months' holiday and then look for something new. So the trip to Mauritania and on to Dakar in Senegal took place after all, as an engagement trip, so to speak, because we had decided in the meantime to give our love for each other a worthy expression of lasting cohabitation.    
     After stopping at Villa Cisneros, I told Sabine about my singular experience with Yeray, and that he would now tie me to the mast. "Is that why you bought the thin ropes in El Aaiún? To tie you down?" "Actually," I stammered, "because they are well made. They remind me of the princely ropery of my childhood. That's when I sometimes spent all my pocket money on thin ropes." Sabine looked round. We had a tiny cabin with two bunk beds. "I can tie you to the mast, too. But there is always someone walking by on deck. Maybe the ladder here would be a better choice...?"
     So far Sabine had only seen me in handcuffs and had accepted my explanation that shackles of any kind had a relaxing effect on me. Now she tied me to the ladder according to my instructions. Then she went upstairs to chat with our traveling companions. It was a load off my mind. I had revealed something to her that could have disturbed our close relationship in the future. Apparently, she would be fine with it. When she came to untie me, she laughed. "You're hanging there immobile like a crab! And we've just crossed the Tropic of Cancer, heading south."
     For a new centre of our life, we had long thought about Madrid and Lausanne. But again and again an island came to the fore: Ibiza. On the one hand, we had been thoroughly prepared for the Mediterranean by writers such as Lawrence Durrell, Henry Miller and Albert Camus and actually wanted to live by the sea; on the other hand, we had already become accustomed in Grand Canary to a simple lifestyle that the hippies had chosen Ibiza to realize. At the beginning of 1975 we found work, Sabine in an art gallery, I again in a real estate company. This time, however, it was about selling already finished objects in a pleasant atmosphere with colleagues from several countries.
     In this strongly Mediterranean phase of my life, little initially happened in terms of bondage. At least I discovered my sensitivity for the relaxing character of very simple restraints, which helped me to relieve stress in times of extreme tension. On the Balearic Islands we had woods with pine trunks of all strengths not far from the front door. I wrapped my arms backwards around a tree and cuffed them. Forced to pause and rest, many a problem that had arisen in the course of professional work was solved by careful reflection. Sabine came with the handcuff key after an hour or two. That is, unless she was chatting away over a glass of wine somewhere. Then sometimes I was stuck for a damn long time.
     In the aura of the hippie era, I began to write and photograph seriously alongside professional work. The novels, via several rejected manuscripts, took three decades to publish, the photos only three years until the vernissage under the title Secret Lives, which took place in the gallery of the same name in Ibiza Town. It is worth remembering that the Mediterranean island was quite popular among artists from Europe and overseas long before the 1970s. The manners were far less strict and bourgeois than on the Spanish mainland. The authorities sometimes turned a blind eye even to daringly eccentric behaviour. Nudity was not officially tolerated, but was common on many smaller beaches and was not persecuted, especially in hard-to-reach bays, as long as no one complained massively. Works of visual art of a primarily erotic character could also be published. Nevertheless, the gallery owner had taken the precaution of placing a part of my lively depictions in a separate room, accessible only to selected visitors.
     Perhaps a few words about the creation of the images. In my youth, experiences of being tied up were usually accompanied by coercion. In particular during physical strength-testing scuffles and cross-country games among scouts. More subtle situations occurred during invitations to the homes of schoolmates at weekends and during holidays. If you're not a frog, you're getting tied up now. Such scenes between boys of completely different polarity – my friend merely marking the stronger one, while in me, in the face of string and ropes, strange impulses marched up between my legs – I certainly mastered bravely and did not show with any movement how much I liked it. Ha? You're tied up, but you're mute! You're getting scared now, aren't you?
     It was probably mainly the rather singular images that finally got me a bondage partner. At the opening of the SECRET LIVES exhibition, Jean-Yves and I became close. We had known each other for some time from the chess club. The experienced tournament player soon noticed that I tried to "tie up" pieces without regard to weakening my own position. In chess jargon, that means severely restricting the pieces' room for manoeuvres. The singular sight of my narcissistically coloured self-portraits, which often show me tied up in a peculiar way, had moved him to courageously take the initiative. His wife had also come to the opening. Afterwards, at Mariano's, an insider bar in Eivissa's old town, the four of us chatted about the paintings. And about us. Jean-Ives' wife knew about her husband's special inclination, but didn't serve him with it any more than Sabine served me. When the girls left us alone, Jean-Yves revealed his pleasure and his almost scientific interest in bondage to me in a long nightly conversation. Over two bottles of Castilian wine, we decided to cultivate our exquisite inclinations together.
     The relationship with Jean-Yves, who is fourteen years older than me, a fashion designer with a focus on swimwear lasted twelve years and was based primarily on chess and literary interests. Our girls knew that solid bondage games were also part of our pastimes. They treated us to the monthly men's evenings and nights from the bottom of their hearts. My friend had nothing against handcuffs and chains, but preferred ropes. In bondage, the principle is that you can never have too much rope. But with thirty meters of strong hemp ropes for outdoors and his cotton ropes of about the same length as softer material for hours of continuous bondage indoors, we had always managed.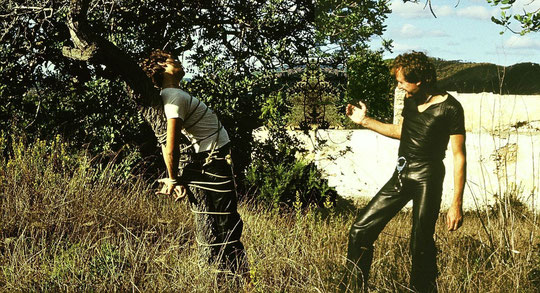 Jean-Yves had an unerring sense of both simple and safe bondage with a minimum of material. Maybe I already saw it that way then or maybe he had pointed out to me how and when one is completely unnecessarily over-tied in a bondage position. It marks a difference between Shibari and Hojojutsu. The former captivates with harmoniously knotted ropes often taken twice and running several times around the body. Hojojutsu originates from the war craft of the Samurai, oriented towards practicality. With about two metres of thin but sturdy cord, even strong men can be completely incapacitated. It should not be concealed that the rope goes around the neck and hands, which are tied behind the back and pulled tightly up between the shoulder blades. If the prisoner tries to break the restraint, he cuts off his air. Therefore, as in the picture above, it was a no-go in our exercises to put ropes around the neck. But in the heat of the moment, especially outdoors, there were occasional spontaneously implemented ideas where I had to pull myself together energetically so that my legs didn't start shaking.
     The position in the picture below was what I had wanted for my birthday, a little bit deviating from our rules of play and caution. This had happened after a series of sessions, when trust in each other had already built up mightily.

     The chain lay relatively limp around my neck, no snare that could have tightened by itself. Jean-Yves watched over me while he tried to solve a problem on the chessboard with mate in three moves. When he had succeeded, he pulled his present over my head. Oh – I had wondered why he had measured me pedantically at our last meeting! His leather hood was the way I had always imagined it, made of thick cowhide with narrow openings in front of the mouth and nose, tight and pitch-black. A strong zip enabled it to be put on and off quickly.
     Obviously he wanted to surprise me with an additional gift when he took the chain off my feet. Now they were attached to the heavy oak cabinet. Then he knelt down to spank me with chess-like thoroughness. In doing so, he ignored the fact that I had told him my backside was a taboo zone. Probably he had hoped that I would not completely refuse the cane. The very first stroke burned like fire. It became a drastic treatment. But I understood, after the span of mutually applied coercion we had agreed upon, that it would be wiser to accept his rushing ahead instead of pedantically Insisting on minor agreements. When we talked about it later, he confessed that he had long missed beating someone up, that I was a desirable victim for him, and that he would let himself be beaten by me at any time without any ifs and buts, whereby a heavy leather belt would be welcome to him.    


     Through the years we met once a month. I think the in itself harmless but painful caning was rarely missing. Even today I shudder – depending on my current state of mind – at the perfidious effectiveness of blows to the buttocks in purely physical fear of pain, combined with a strange fascination similar to that felt by the rabbit in front of the snake. It is safe to assume that the unmistakably clear language of yellow canes, brown hazel rods and heavy leather straps is understood by every butt in the universe.
     Jean-Yves made sure the procedure went smoothly, mostly by tying me tightly to the massive cast-iron frame of his old Singer sewing machine, which made an excellent whipping bench. It reminded him of his experiences at an English boarding school he had attended for four years. There, punishment with the cane was just as legal as it had been during my childhood in German schools. In the fifties, teachers made extensive use of caning if they didn't know what else to do. In tight-fitting pants, it was just as painful as on the bare bottom. Which did not come up short at home. Not even in a dream would I have thought of encountering the cane again in middle age.    
     If it was Jean-Yves' turn, he received a similar treatment and the same dose from me. For both of us, half standing, half lying uncomfortably tied to the sewing machine table, it was almost a redemption as soon as beatings drew the line under serving a fictitious sentence due to fictitious misconduct. At some point he had discovered that the half-green, still pliable shoots of the Spanish reed, Arundo donax, also called giant reed, hurt nastily even with little force. When it was finally over, he gently reminded me as he placed the young Arundo donax in a large floor vase with the other seedlings, "What should you dutifully ask me before I untie you, Harry?" "Um – please, sir, could I have another heavy blow for the road, sir?"

     My friend came from Lorraine, where German lederhosen had strayed during the occupation in the Second World War. He appreciated the sturdy garment and wore it with enthusiasm during the summer holidays as a counterbalance to the boring English boarding school clothes. He did not know that short leather trousers most likely originated in the Alsace-Lorraine region, where they had been used for farm work in the 19th century. He returned from the next visit to his parents' house with his old trousers – shaking his head because he didn't think he would still be able to find them. Without this rugged cover, he confessed, he would have had to refuse the thrashing with the leather belt in future, because every trouser fabric, even strong denim, let the blows through unchecked.
This page still needs some additions, the elaboration of which may take some time.
© Harald Bergander · 2022
My bondage   ·  Childhood and youth  ·  Captured in East Germany  ·  Midlife  ·  Retrospection in old age

                                                                                                                                                  (in preparation)