My bondage  ·  Childhood and youth  ·  Captured in East Germany  ·  Midlife  ·  Retrospection in old age
                                                                                                                                               (in preparation)
Sweet childhood and youth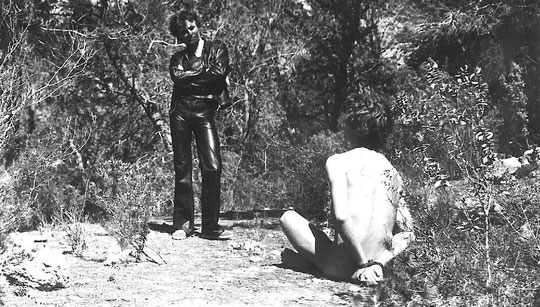 When I was ten years old, my father sent me to judo lessons in view of my weak strength. There I found a playmate who also liked to fight with me in the forest because I was easy to overpower. After seeing a string hanging out of the pocket of my leather shorts several times, he understood it as an incentive to confirm my defeat by tying me up. This measure became a permanent feature of our fights.
     We soon found out how far we could go to humiliate each other without jeopardising our intimate friendship. Like judo, we felt as Uke and Tori in the rough outdoor games. But I also remember peaceful afternoons when we sat side by side in the grass and read comics, but also "serious" books recommended by our parents from their bookcases. Among them were such opposites as Winnie-the-Pooh and Narcissus and Goldmund. I read both books several times and still think they were a must for my generation. During the reading, we were often tied together at the elbows. "So that you can't run away if I fall asleep," Tori justified his action.
     Well, a rope can be unknotted at any time and also leaves red marks on the skin, which led to unpleasant questions at home during dinner. Hans-Rainer soon fell for the idea of using something lockable and bought a thin, nickel-plated chain and two shackle locks from the hardware store with our pocket money. The chain was an anticipation of professional hand and ankle cuffs, for which I had to wait many more years.

With a chain and two shackle locks, we as prisoners could be folded up so that we were absolutely helpless. For classic hand restraints in front of the body or on the back, or even for a hogtie, 120 cm of chain was always long enough. The simple material, bought 60 years ago, is still free of rust and ready for use.
     On rainy days, we played at home. I was embarrassed when my father saw me tied up on a chair or lying hogtied on the floor. He shook his head and judged, "That's what happens to someone who doesn't fight back enough, boy!" – "I fight back as best I can, Dad. But often Hans-Rainer is stronger than I am. Actually, he can do whatever he wants with me." Dad never interfered in our games, let alone freed me. Maybe because my friend, at the age of twelve, already played chess better than him and casually outwitted him. So the mathematician was similarly double-crossed by a shrewd pupil as I was.

     From puberty onwards, the frequency and intensity of our activities decreased, not least because with Hans-Rainer who did not know that for me he meant Goldmund, the girls showed their interest in a male body much earlier than with me, while I planned a career as a narcissist and sought further experience in the scouts for the time being.

     By setting up the tents, they knew a lot about cords and how to tie knots. During cross-country games, I developed a tactic of moving so awkwardly that I became an easy prey for capture. Then I tried to escape from my guard in a very clumsy way and promptly made the acquaintance of thin rope that tied my wrists and ankles tightly together. The boys were not born yesterday and soon realised that I cared little for being tied up.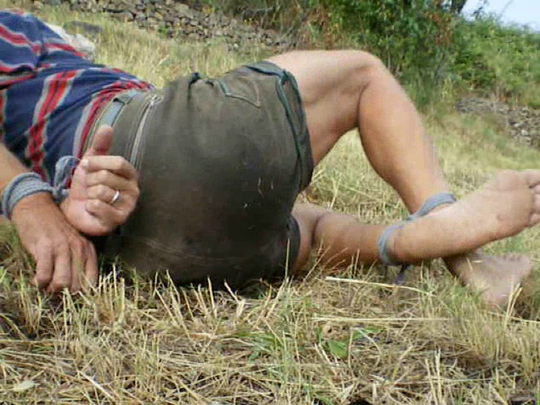 At the age of 15, summer vacations became the touchstone for how much bondage I could endure and how long I considered them a pleasure. I took part in an extended recreation in the Lüneburg Heath. During a two-day group game, I soon fell into my usual lax tactics and was tied to a tree for hours. Strangely, the people in my group made no attempt to free me. Had they written me off as a player? From supper on, the rule was that all feuds should rest until next morning after breakfast.
     The weather cooperated. Outside there was a lot of chatting and joking, and after none of them were there, we made fun of one or the other teacher. Two boys had brought their guitars and accompanied the many-voiced singing, and it became international: Kein schöner Land in dieser Zeit, Sur le pont d'Avignon, There was a house in New Orleans. As for the night's rest, the hostel's house rules were strict – curfew and lights out at 10pm.
     No sooner had I brushed my teeth than Hans-Rainer and another showed up, both waving ropes. They forced me onto my bed, tied my feet to the frame and my hands behind my back. Then they informed me that the game management had decided to grant me this special treat and let me sleep tied up, as I obviously liked it. I suppose it was great fun for them and the gang had made bets that I would soon be begging for mercy. Despite the somewhat uncomfortable position, however, I must have soon fallen asleep and had not woken up once by morning.
     My membership in the Boy Scouts lasted two and a half years. In the autumn of my 17th year, I left the group. Neither my delicate body nor my restless mind felt comfortable in the long run among so many strong boys in a bunch.

     Until the end of my school years, I was alone a lot. My older sister managed the household quite poorly in addition to her job. My father lived with a woman he met soon after my mother's early death and only looked in on me occasionally.
    I was limited to self-bondage. In a long test phase I explored positions from which I could reliably free myself again. The question of how physical mobility could be brought more or less to zero with a minimum of time and material was in the foreground. The restraints should be comfortable in the sense of undisturbed rest for an hour or even longer, depending on school matters and whatever else the day threw at me.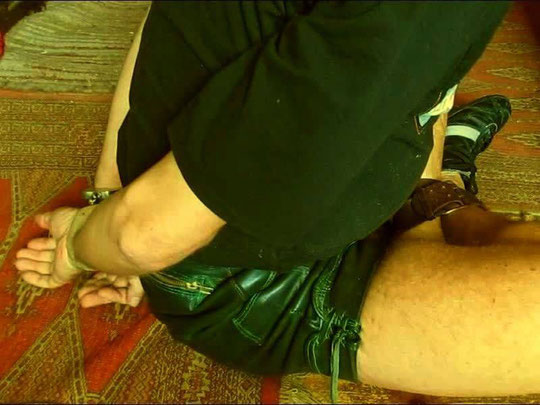 My favourite became the cross-legged seat. The ankles were strapped together crosswise with a belt, secured with a shackle lock. Over the head came the air-permeable gym bag for the school sports stuff. Some diffused light shone through, but I couldn't perceive anything. The wrists were chained behind the back. It was all done in less than five minutes. The keys lay beside me. I could no longer stand up, at best I could just slide around a bit on my bottom. This led to a breakdown, typical for an apprentice in the art of bondage. I got too far away from the tiny keys and couldn't find them again. Blind, you quickly lose your bearings and get lost in your own room. Fortunately, my sister came home soon.
      In the picture, the chain from the games with Hans-Rainer has been replaced by my first handcuffs, which I made friends with in 1971.
      Does bondage make sense in the certainty that I can free myself? I don't think so. Whenever I later had access to the keys, I lost respect for chains and locks and also a little respect for myself. But in those years, when I was often as hungry for a piece of bread as I was to be tied up, I had no choice. As a sporting activity, self-bondage can still be beautiful, but it lacks the feeling that one experiences between sweet and bitter, depending on the severity of the bondage: here I am and here I must stay, because there is no escape. The meditative side of tight bondage opened up to me early on when Hans-Rainer cut off any possibility of self-liberation. Otherwise, the meditative security for body and soul would hardly have set in. As a teenager without a teammate, I literally always squatted in the dilemma of embodying Tori and Uke at the same time. I held the keys in my hand, but wasn't actually allowed to have them.
© Harald Bergander · 2022
My bondage  ·  Childhood and youth  ·  Captured in East Germany  ·  Midlife  ·  Retrospection in old age
                                                                                                                                               (in preparation)