Video clips/Leather pants/
introduction     page 1     page 2     page 3     page 4

Even without leather pants you look horny
     Manuel comes from Spain to Germany. His girlfriend Diana forces him to wear leather pants and go barefoot. If he resists, he is tied up. Learning German goes together with the German way of life. Manuel falls in love with Diana, leather trousers and being tied up.
     Two years later he is sent to Wyoming. The Spaniard should learn English. His half-brother lives on a ranch. Billy falls in love with Manuel and his cool pants. Their nicknames: Quee and Jiggy. Through mutual bondage games the adolescents become inseparable.
     In 1961, Jig gets his first handcuffs from Sheriff Henderson as payment for a Spanish-English translation. The handcuffs cause a rift between Quee and Jig, typical of adolescents who get too close emotionally. Quee freezes in a cold night. He wants to warm up in his half-brother's bed. Well, Jig lies handcuffed in bed! Quee scoffs that Jig apparently prefers a dead piece of steel to a living body. The fatal grain of truth in the statement hurts Jig deeply. A quarrel ensues in which their deep affection turns to hatred. For years Quee insults Jig in letters and telegrams as someone, "who became an asshole for me ..."
  Leather Pants of Diana, Quee and Jig 00 · Trailer   ▼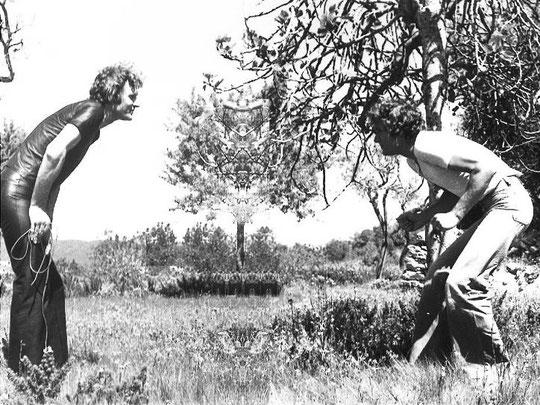 Leather shorts of the German 1950s / 60s
       In Germany's 50s, many kids and teenagers wore leather shorts. Scout games included being tied up as a captive. Quee is presenting here his oldest leather pants.
     One day, when Jig was his prisoner and could offer no resistance, Quee carried out a transfer of ownership of the shorts. Jiggy had been given the handy shorts by Diana when they were 14. Diana got them from her brother a year earlier – changing owners. Their parents had bought the trousers in a leather goods store in Hanover.
     Oddly enough, all the children felt great pleasure in bondage games. With leather straps or rope. Such as tied to a tree in a remote forest meadow ...
Leather Pants of Diana, Quee and Jig 01  ▼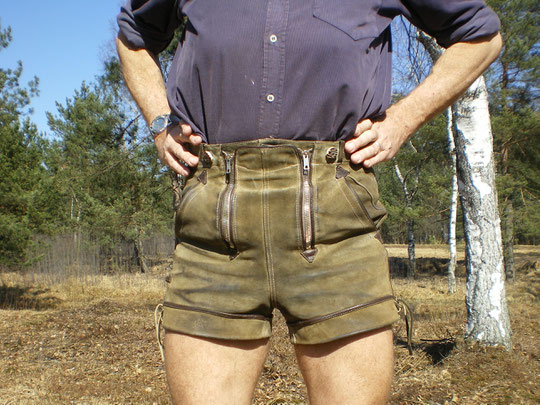 Leather shorts for the sheer joy of life
    The pants shown in Clip 01 were the first of 20 leather trousers. They caressed the bodies of our heroes over time. Among them are several pairs of long trousers for working in the office. However, the oldest piece first delighted Diana's brother and Diana, then Manuel (nicknamed Jiggy), and Billy (nicknamed Quee). The waist size was 72 cm, extended to 76 cm by Aunt Vrassi in 1958. After Quee shot into his own marbles, his granny repaired 1961 the crotch area and widened the waistband to 32 inches.
    Later, Quee's nieces Poppy and Patricia sometimes put on the trousers. From 1970 in Eivissa mostly Jig again. Occasionally Di and Quee would strip him naked and tie him up in a hogtie. For the sheer joy of life ...

  Leather Pants of Diana, Quee and Jig 02  ▼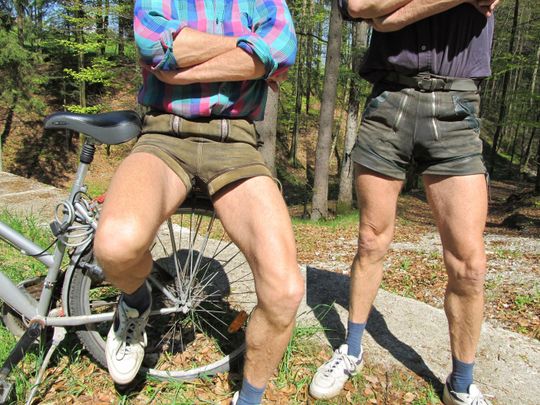 Leather pants may create life-long love
     Diana's second pair of leather trousers was also her brother's at first. Until he broke his neck while riding. The garment became a relic for Diana. Di forced Mani to put on the relic when she fell in love with him. Then she tied him to a birch tree. It was her method of testing boys for fearlessness and courage. With a pocket knife in her hand, she threatened the defenceless "to cut something vital down there."
     Mani's response: "Do as you please! There's practically nothing there with me. And what's there, I don't need. I'd like to be a girl." Thus begins a love that lasts a lifetime ...

  Leather Pants of Diana, Quee and Jig 03 ▼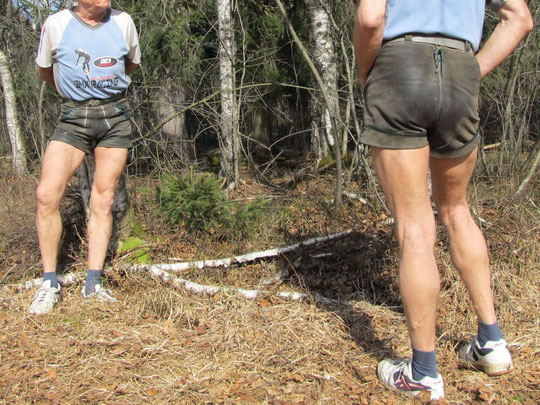 Jig doesn't know what to do with Hinrich's gun
     As mentioned in clip 03, Mani turned his back on the mouse-grey leather trousers. He took Diana's severe concussion from the fall in the stone quarry as an omen. Maybe he would fall off his bike in these shorts. He might break his neck like Diana's brother. Hinrich Hinrichs died shortly afterwards in Zamora. The German major had been living with Aunt Pili since the end of the war. He left Pili debts and bequeathed Mani his Wehrmacht pistol. Mani neither wanted to keep them nor throw them away. Pistols like leather trousers seemed unlucky things to him.
     Under a pretext, he asked Padre Arucas to keep it. Padre Arucas wanted to refuse because of the unknown content. But he was fond of the headstrong boy. And he got used to putting the pillow under his head. When he lay on the ottoman in the sacristy and prepared a sermon. He also heard Mani's confession. Mani was ordered to chastise the flesh daily ...

  Leather Pants of Diana, Quee and Jig 04 ▼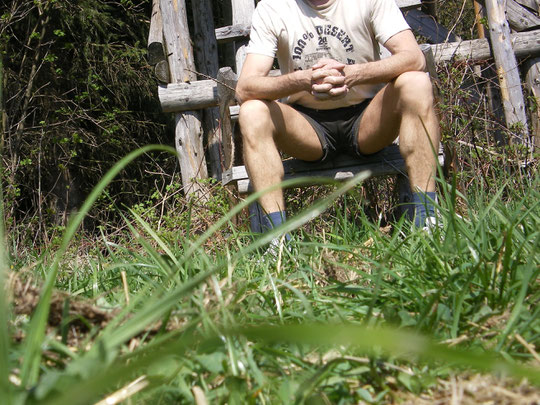 The subtle erotic appeal of leather shorts
     Today's erotic diversity was widely unknown in the fifties. The post-war generation had to toil quite a bit, until they were halfway familiar with their own bodies. In Germany, Diana received sex education from her parents. "Questions, darling?" "Oh – many...!" Everything was clarified exhaustively. Without a fig leaf.
     In Spain, Manuel (nickname Jiggy) once asked his mother if he was a real boy. She said, "Well, girls look different in their under parts." In the U.S., Billy (nickname Quee) grew up on a ranch in Wyoming. He already knew a lot about nature at the age of ten. On the ranch, he saw animals doing love.
     The 60s were a decade of sexual liberation. Bare legs in tight shorts were part of the street scene in those days. Even more so at school and during sports and games. Manuel was confused as the Wyoming boy judged approvingly, "Your cock is something to behold ..."

  Leather Pants of Diana, Quee and Jig 05 ▼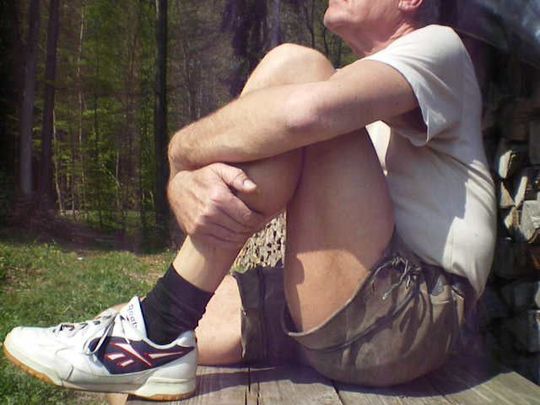 Jig reads Sacher-Masoch's Venus in Furs
     Like sex, bondage was not a freely discussed topic in the 50s and 60s. The word was missing from Diana's encyclopaedia. In Zamora, Jig also searched in vain. The 20-volume dictionary at the BROTHERHOOD IN THE LIGHT OF THE LORD ignored it. However, he found a picture of a public flogging. The prisoners tied together at the elbows excited him.
     For Christmas, Diana sent him a novel. A classic of bondage, she said. The way Wanda treated her lover Severin as a slave frightened him. He would not let himself be tied up and whipped! Or would he –? He really liked to be tied up...! And Quee had already spanked him once. Also his bare ass with the cane. He slept badly for nights on end. Waking up from nightmares ...

  Leather Pants of Diana, Quee and Jig 06 ▼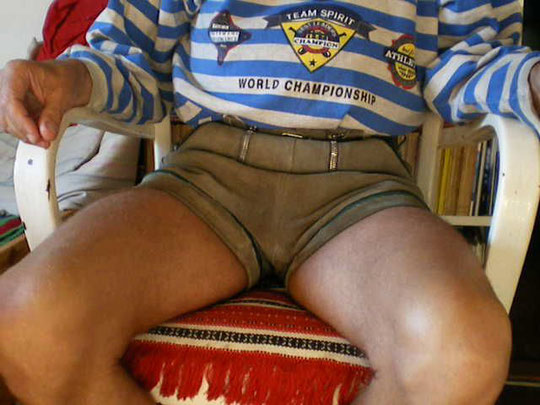 A typical leather pants biography of the 60s
     Jig receives these short leather scout trousers as a gift from Diana. Quee wants to become co-owner. "We take turns putting them on," says Jig. He likes to look at his half-brother. Especially when Quee is wearing shorts and handcuffs.
     Both Quee and Jig are slender lads. With almost the same build. Quee is stronger, Jig more agile. Even beyond the age of 30, waist 32 fit them. In 1968, Di gives the boys the other two pairs of trousers of her youth. Leather shorts are already out of fashion. Quee and Jig continue to pull it on throughout the 1970s, steadfastly.
     In the Eivissa of the hippies, long trousers dominate. In hard to reach bays, nudity. Colder seasons, cycling and motorcycling call for long trousers. Just as leather is imposed on the body and handcuffs on the wrists, all the shorts are incarcerated in Jig's escape-proof wardrobe. Once a year, they are let out into the open under strict surveillance. To check their mobility and the fitness of their owners.
     After the millennium change, all trousers take part in public life again. They have served their retired masters faithfully for more than fifty years. The speckled leather, patched several times, testifies to her busy life ...

  Leather Pants of Diana, Quee and Jig 07 ▼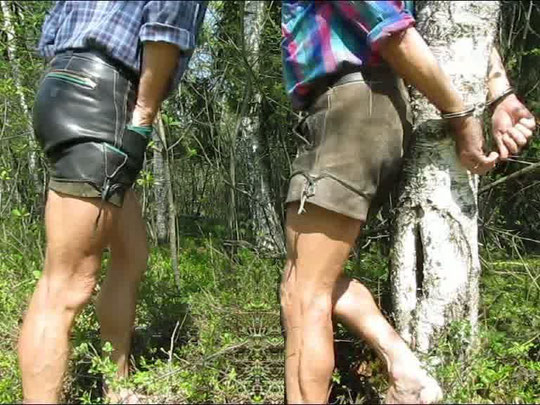 Jiggy is going to see a prison museum
     Jig visits the Wyoming State Prison Museum. Quee has to work on the Ranch. That day, TV Wyoming wants to simulate an execution. The young actor designated as the delinquent has fallen ill. The film director asks Jig to stand in for him. 50 dollars payment makes it easy for Jig to agree.
     Jig wants to be tied with the hands in front. "No sir! The arms belong on the back! Otherwise you could disrupt the execution process." Jig is the first to be hung in short leather trousers.
     Now Jiggy is getting scared. That something could go wrong with the simulation. A broken neck cannot be repaired. And suddenly he remembers that he is against the death penalty ...

  Leather Pants of Diana, Quee and Jig 08 ▼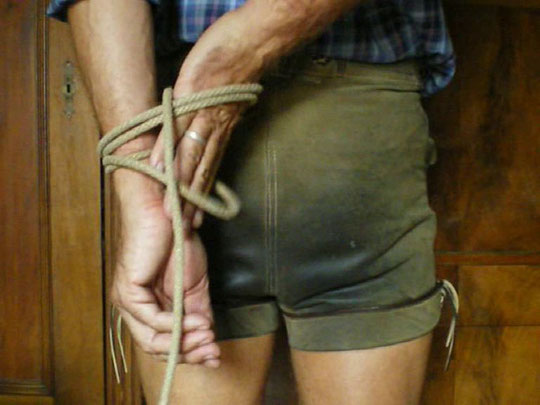 The wonderful mystery of bondage
     The last episode ended in disaster. To prevent a tragedy, the mystery has been on the boys' side. It has issued a new marching order to the bullet. Quee's favourite parts remain intact. Shame and Scandal are enough punishment for his presumptuousness.
     Shame and Scandal in the Family strike in yet another way. It emerges that Jig and Quee are half-brothers. Two years later, the boys reunite again on the Ponderosa. Jig is eighteen, Quee almost sixteen. They now perform together on Independence Day and at ranch festivals. Quee is the showmaster. He swings his Indian leather lasso. Jig is caught with it like a baby calf with no experience.
     But Jig is a performer of his liberation skills. Of course he works with loopholes invisible to the audience. But there are no loopholes, when they are among themselves. Then Jiggy's dexterity has to capitulate to Quee's leather straps. Now the game gets rules. The victor is responsible for his prisoner. Inflicting pain to the defenceless body is forbidden ...

  Leather Pants of Diana, Quee and Jig 09 ▼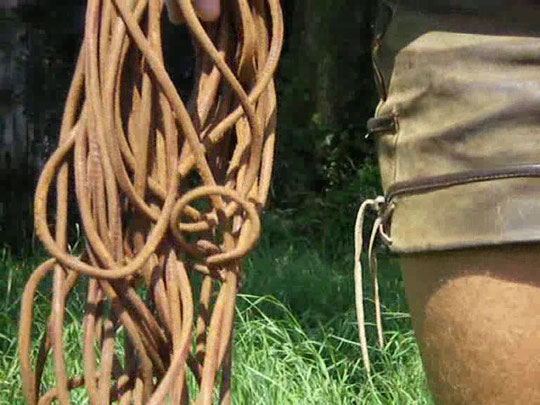 If you try that I will hang you by your balls!
     Diana bursts into what is probably the most carefree time in the lives of the two half-brothers Quee and Jiggy. She wants her beloved Jiggy back. That she wants to learn to ride in the Western style is a pretext. Di already rides like a squaw.
     Quee and Jiggy promptly get into a quarrel. Out of rivalry? Jealousy? Because Di stands between them? The classic threesome – one girl and two guys? Things are getting out of hand. Aggressive words are spoken. Jig: "You better get out of here! Before I cuff you!" Quee: "Try it! I'll hang you by your balls."
     Maybe they should have had a fight. Sometimes that clears the fronts. Like a slap in the face at the right time ...
 Leather Pants of Diana, Quee and Jig 10 ▼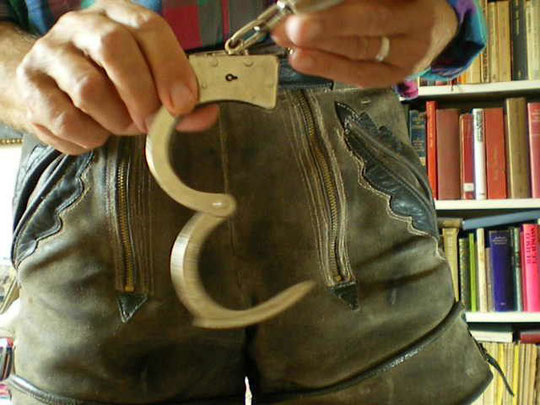 Video clips/Leather pants/
introduction     page 1     page 2     page 3     page 4