Video clips/Meditative Bondage/
introduction       page 1       page 2       page 3       page 4       page 5
Manuel is making friends with handcuffs · Meditative Bondage 21  ▼

Being handcuffed to a tree, is a new experience for Manuel, who is charged with staying illegally in the patch of virgin wood, belonging to Count Brackelstein. Rubbish! Manuel is convinced, the forester captivated him at Diana's behest. She wants to prevent him from playing with himself. Well-planned! Manuel can't do anything but waiting to be released...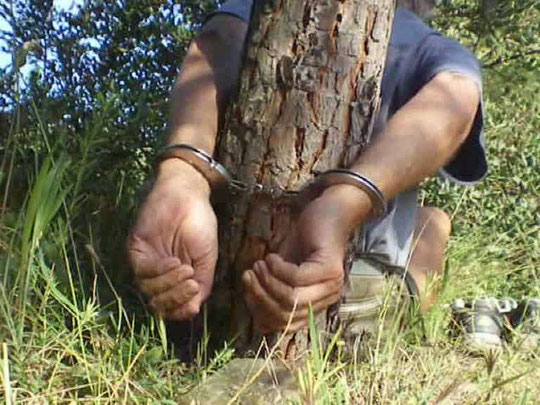 Moonlit handcuff night · Meditative Bondage 22  ▼
Di and Mani are invited to the forester's · After dinner, they hear music and play cards · At midnight, Dietmar says: "Youngsters, time to go to bed!" · Mani insists on spending the night outdoors · Sitting at his favourite tree · With the wrists tightly handcuffed behind the trunk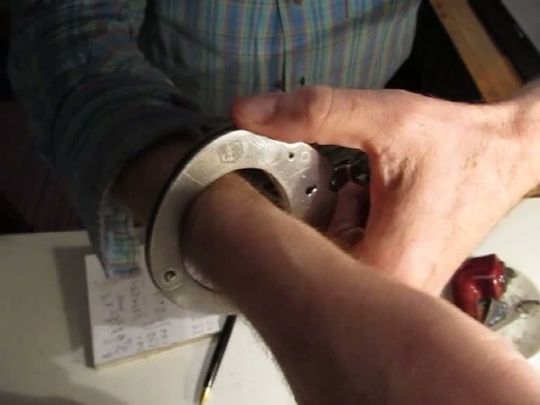 Bound Knees · Meditative Bondage 23 ▼

In another clip, during a moonlit night, Manuel was handcuffed to a tree · Lots of gnats and other pests broke his sleep  · So he looses the appetite for long sessions · He falls back on Diana's thin cotton ropes · Perfecting the combination tied hands + tied knees · Last days of his school holidays · Trees seem to be his destiny · Again he is tied to a trunk · For a long afternoon ...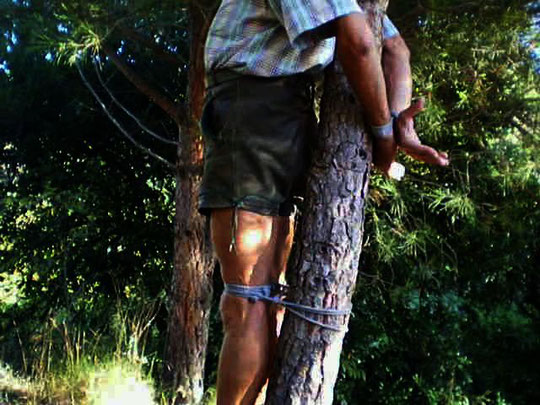 Bye-bye Tie-up summer ·  Meditative Bondage 24 ▼

In a tender togetherness, a tied-up boy is good for nothing · Says Diana · The day, before Manuel leaves, Diana considers his strange behaviour · "Being tied up, my dear, is one thing. To be with a girl, another. To deal with a girl actively or passively, that might be your problem. As you know, both is exciting. But not practicable at the same time."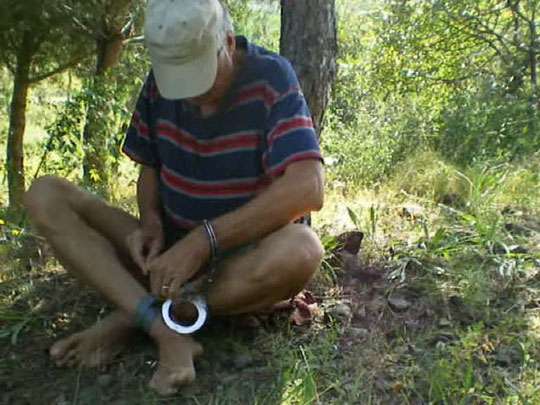 Handcuff Clock 0 · Preview Clips 26 to 31 · Meditative Bondage 25 ▼

A timer, retaining handcuff keys? That idea floats around in Manuel's head. Since his first experience with handcuffs. Wonderful dream! He could sit down, handcuffed behind the back in his favourite Lotus position. The legs cross-tied in front. Waiting for the key, which would fall down from a tree...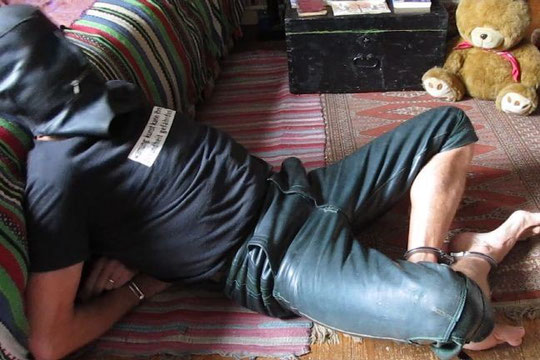 Handcuff Clock 1 · Extravagant Dream · Meditative Bondage 26 ▼

Manuel from Salamanca likes tied hands. As a tranquillizer to his turbulent spirit. He uses cord or thin leather thongs. Later on handcuffs. They are easier to handle, more secure and do not hurt the skin. He only attains meditative stillness, calming down his ebullient fantasy, if no key is in reach. Escape must be impossible. But how to get out at session's end? Someone bringing him the key is not anytime disposable. Handcuffs with an inbuilt timer -- that is Manuel's extravagant dream! With locks, not to be unbolted externally.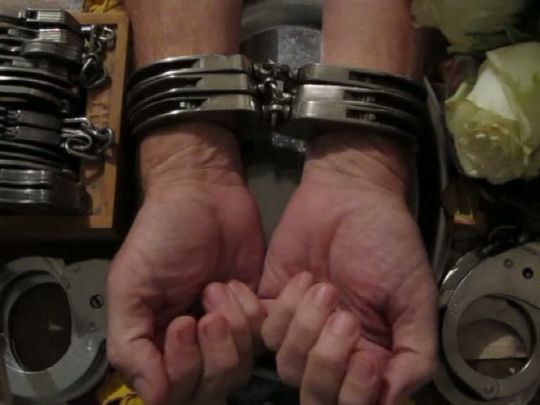 The Dream Comes True · Handcuff Clock 2 · Meditative Bondage 27 ▼

In handcuffs attaining meditative calm? Why not? · A handcuff timer is put into practice · Of course, external · Its centrepiece is an electromagnetic coil · Adhering iron pieces like handcuff keys ··· After his Wyoming adventure, Manuel studies Spanish and English in Madrid · Life is more complicate than before · The boy needs the calming down sessions in handcuffs like a piece of bread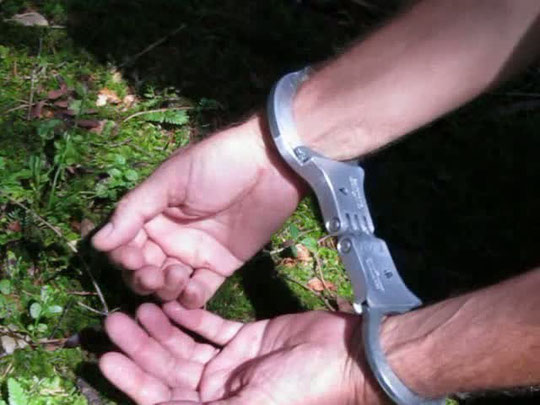 Trapped in handcuffs by remanence magnetism
  Handcuff Clock 3 · Meditative Bondage 28 ▼

Manuel is waiting for Billy · His half brother likes to have a jiu-jitsu lesson · Meanwhile, to cheat the time, Manuel starts his special sports · A sort of afternoon walk · With GERMAN POLICE cuffs at the feet · And handcuffed behind the back · With Spanish STAR handcuffs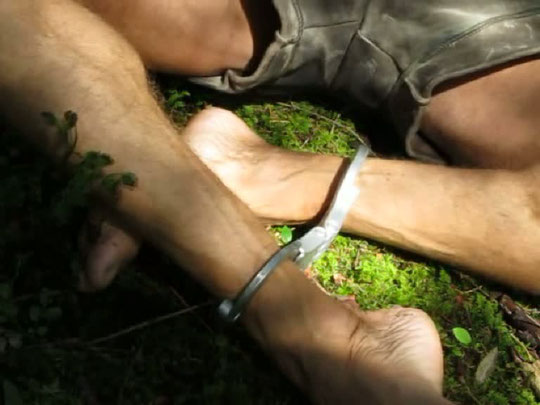 Beastly Handcuffed and Hooded
 Handcuff Clock 4 · Meditative Bondage 29 ▼
Manuel likes meditative sessions under the handcuff clock · In his favourite Lotus position · Hooded · Meditating in total darkness · Diana does not care about it · But one day, after they had quarreled, she takes the keys away from the timer ...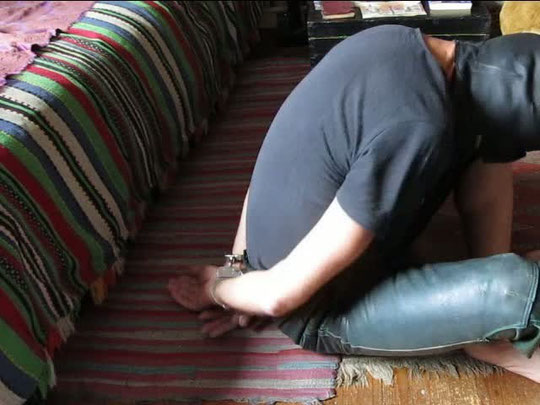 Handcuff Clock 5 – Handcuff Session for the Hardboiled
Meditative Bondage 30 ▼

Concerted handcuff sessions? · Sitting side by side? · The boys never would have agreed to it · Meditative stillness, as Manuel and Billy conceive it, can only be achieved on one's own · Preferably hooded · In order to fade out reality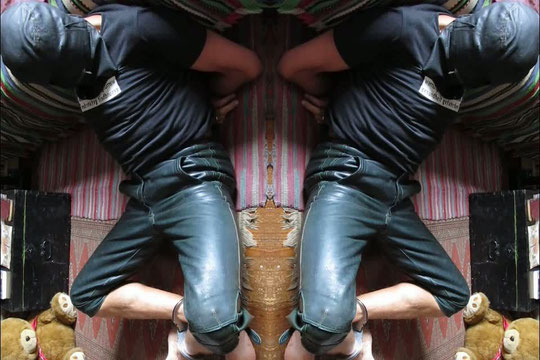 Video clips/Meditative Bondage/
introduction       page 1       page 2       page 3       page 4       page 5