Video clips/Meditative Bondage/
introduction       page 1       page 2       page 3       page 4        page 5
I am sorry to inform my visitors that  http://www.video.geroellheimer.net/
hosting my bondage material does not continue its service.
I hope to find somebody else in the next weeks.
Jiggy trapped in LLAMA handcuffs · Meditative Bondage Clip 34 ▼

Jig has new handcuffs · On an excursion to the Gredos Mountains the boy tries them out · Walking handcuffed on lonely paths · Playfully he cuffs himself to a tree in the wilderness · The key is in the lock · But the tree is to thick and the cuffs are too tight · Jig's arms go numb · The key falls to the ground · A wholesome lesson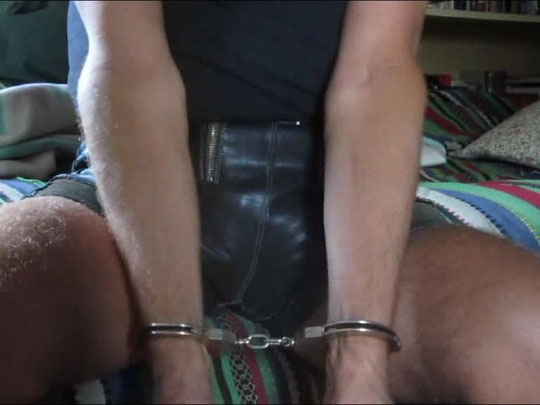 Handcuffed and hooded on Christmas Eve · Meditative Bondage 42 ▼

Quee doesn't want to go to Mass with his friends · He likes his own way of self-reflection · Taking a nap before supper · Handcuffed and hooded in bed · Jig proposes to set the key switch clock · Quee refuses · On Christmas Eve things must be serious · So Jig takes the key along
Billy spanked in the reformatory · Meditative Bondage 10 ▼

Spanked in the reformatory school · Billy wants to demonstrate Manuel how this was done in 1962 · "Spanked? For what reason?" Manuel asks. "Well, I was top of the class. In a math test, the boys beside me copied my perfect work. Beside them two others. It came to light. The cowards claimed that it was me, who had copied. Four liars. I had no chance. Punishment: A Sunday morning at the school desk. Tightly handcuffed. And ten belt strokes on the bare buttocks."
Modifying LLAMA chain handcuffs · Meditative Bondage 35 ▼

Handcuffs caused a break between Quee and Jig · Six years later reconcilement · Quee now likes Jiggy's neat Spanish LLAMA cuffs · Standard chain cuffs, easily to pick or to shim · A locksmith proposes making them very secure by a close hinge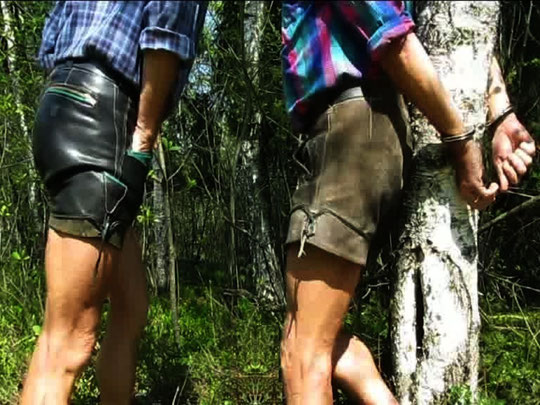 LLAMA hinge handcuffs for Jig's birthday · Meditative Bondage 36 ▼

Quee needs a suitable present for Jig's birthday · School day friend Lester learned the locksmith trade · He offers a brand new pair of LLAMA handcuffs · They'll fit like made-to-measure on Jig's small wrists · Lester proposes to link the cuffs by a hinge · Even for Jig, it will be extremely difficult to escape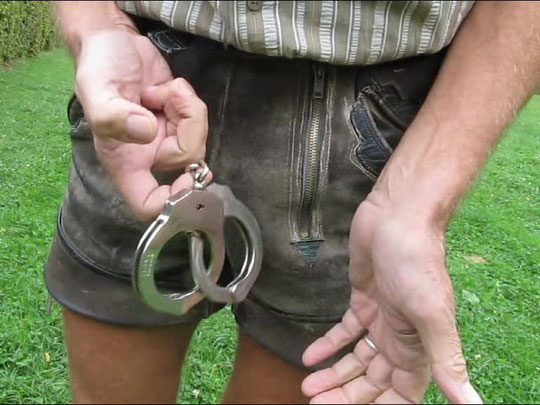 Bound elbows in the woods · Meditative Bondage 37 ▼

Manuel studies self bondage · Presently, how to tie elbows plus wrists · No problem at home to get out · Where his girlfriend watches over him · The situation is quite different in the woods · Where nobody is around · Diana's undertakings are slippery · She may promise to come at five · He may be lucky, if she appears at seven ...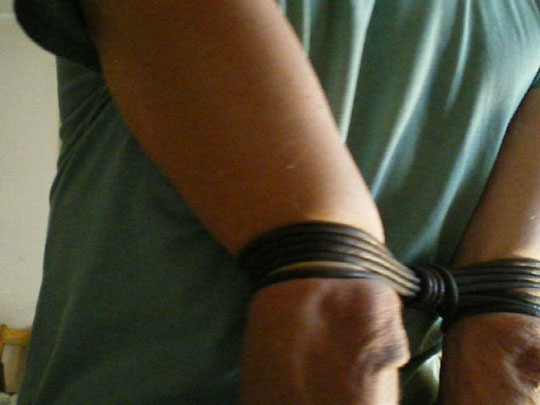 Bound Knees · Meditative Bondage 23 ▼

In another clip, during a moonlit night, Manuel was handcuffed to a tree · Lots of gnats and other pests broke his sleep  · So he looses the appetite for long sessions · He falls back on Diana's thin cotton ropes · Perfecting the combination tied hands + tied knees · Last days of his school holidays · Trees seem to be his destiny · Again he is tied to a trunk · For a long afternoon ...

Bye-bye Tie-up summer ·  Meditative Bondage 24 ▼

In a tender togetherness, a tied-up boy is good for nothing · Says Diana · The day, before Manuel leaves, Diana considers his strange behaviour · "Being tied up, my dear, is one thing. To be with a girl, another. To deal with a girl actively or passively, that might be your problem. As you know, both is exciting. But not practicable at the same time."
Handcuff Clock 5 – Handcuff Session for the Hardboiled
Meditative Bondage 29 ▼

Concerted handcuff sessions? · Sitting side by side? · The boys never would have agreed to it · Meditative stillness, as Manuel and Billy conceive it, can only be achieved on one's own · Preferably hooded · In order to fade out reality
Handcuff Clock 6 – Everyone may clone this handcuff clock
Meditative Bondage 31 ▼

Manuel thought out the handcuff clock for meditation · Meditative stillness, being inescapably chained, is not everyone's high road to happiness · Something for the happy few · Those who did find their individual spiritual path · The clock guarantees release from self induced confinement · When time has lapsed · When reality calls back to daily routine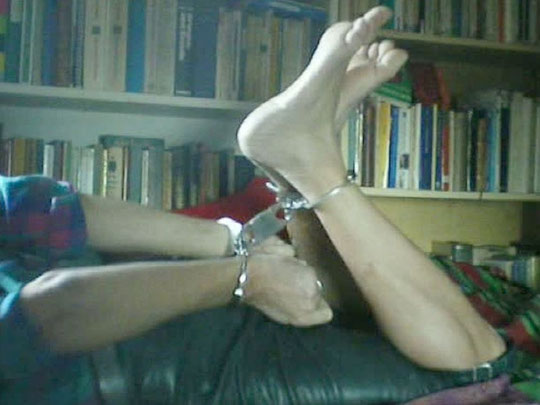 For any feedback or question, do not hesitate to contact me. An answer is guaranteed. But it may take some time.
Video clips/Meditative Bondage/
introduction       page 1       page 2       page 3       page 4        page 5