Video clips/Meditative Bondage/
introduction       page 1       page 2       page 3       page 4      page 5
Handcuff Clock 6 – Everyone may clone this handcuff clock ·
Meditative Bondage 31 ▼

Manuel thought out the handcuff clock for meditation. Forcing meditative silence by being inescapably chained is not everyone's royal road to happiness. It's something for the happy few, who did find their individual spiritual path. The clock guarantees release from self-imposed imprisonment. When the set time has lapsed and reality calls back to daily routine.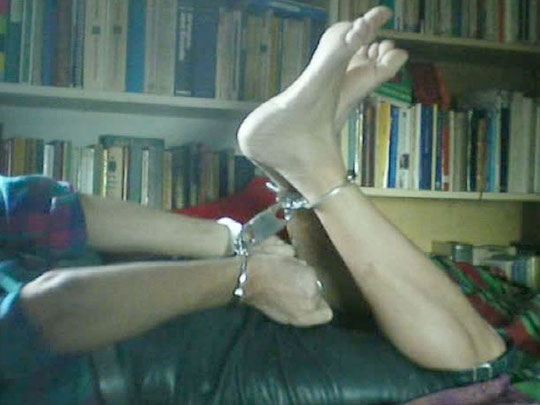 Fond-du-Lac and Llama handcuffs in the sixties ·
Meditative Bondage Clip 32 ▼

Jig got his first handcuffs in 1962 from Sheriff Henderson. Who hoped they would help Jiggy to teach his half-brother manners. That went wrong, because Jig wanted the cuffs for his own desires. When Quee surprised his half-brother going to bed handcuffed, it had unexpected consequences. Years later, Jig bought Spanish cuffs in the Basque country. They seemed to be made to measure for Jigs small wrists and became his favourites.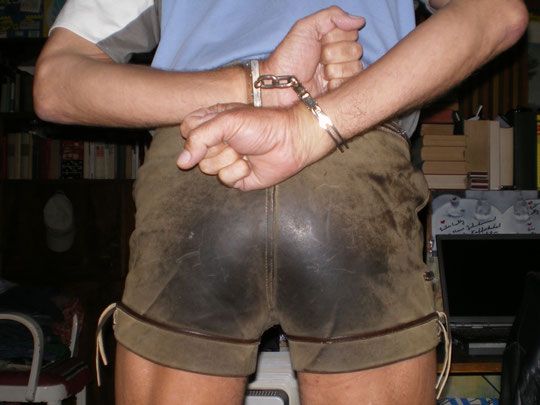 Jiggy trapped in LLAMA handcuffs  ·  Meditative Bondage Clip 33 ▼

On an excursion to the Gredos Mountains, Jig tries out his Llama handcuffs, walking for kilometres handcuffed on lonely paths. To rest a little in the wilderness, he playfully cuffs himself to a tree. But what can go wrong, does go wrong. The tree is too thick and the cuffs are too tight. Jig's arms go numb. The key falls to the ground. A salutary lesson told in my novel The Ballad of the Friends Leather Freak Tom & Handcuff Jig.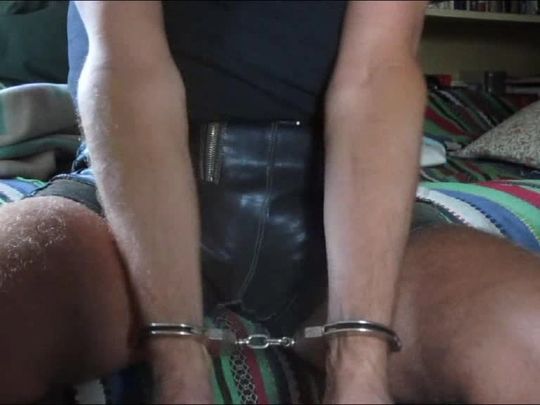 Modifying LLAMA chain handcuffs · Meditative Bondage 34 ▼

Handcuffs caused a break between Quee and Jig – and six years later reconciliation. Quee now likes Jiggy's neat Spanish LLAMA cuffs, standard chain cuffs, easily to pick or to shim. A locksmith suggests hinging the cuffs close together to make them much more secure.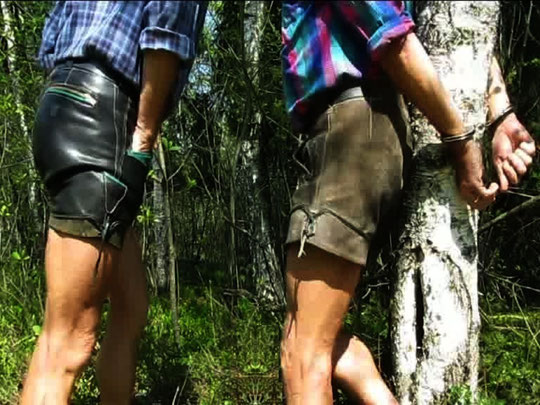 LLAMA hinge handcuffs for Jig's birthday · Meditative Bondage 35 ▼

Quee needs a suitable present for Jig's birthday. School friend Lester has learned the locksmith's trade. He offers a factory-fresh pair of LLAMA handcuffs. They'll fit like made-to-measure on Jig's small wrists. Lester proposes to link the cuffs by a hinge. Even the tricky Jig will find it extremely difficult to escape from such tight handcuffs.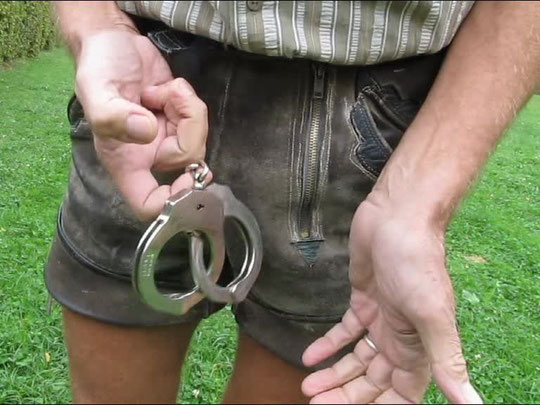 Bound elbows in the woods  · Meditative Bondage 36 ▼
Manuel studies self-bondage. Presently he tries out how to tie both elbows and wrists. There's no problem at home to get out, where his girlfriend looks after him. The situation is quite different in the woods with nobody around. Diana's undertakings are slippery. She may promise to check on him at five o'clock. He can count himself lucky if she appears at seven ...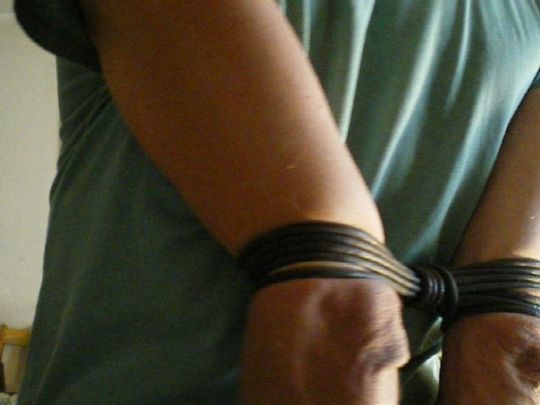 Bound elbows on ancient case law · Meditative Bondage 37 ▼

Jiggy's meditative practices are inseparably wedded to artistic self-bondage. Quee tells him about his anthropological studies. In the Japanese Samurai period tied elbows were often completed by bound knees. Such restraints were especially applied to criminals condemned to have their balls cut off.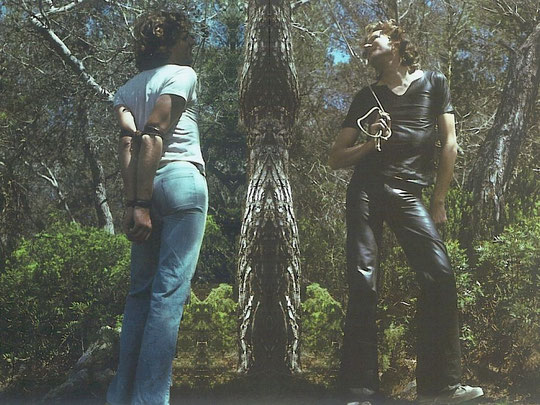 Tightly tied up with leather thongs · Meditative Bondage 38 ▼

Ibiza 1969, hippie time. Quee and Jiggy order leather clothing from Cuero Mallorquín. For their bondage games the boys want something extravagant, leather T-shirts, trousers, and a tight overall of thick cow hide. They wear it as leather-over-nothing, as leather on the whole body produces a marvellous feeling. The young men look sexy in the shiny black dress.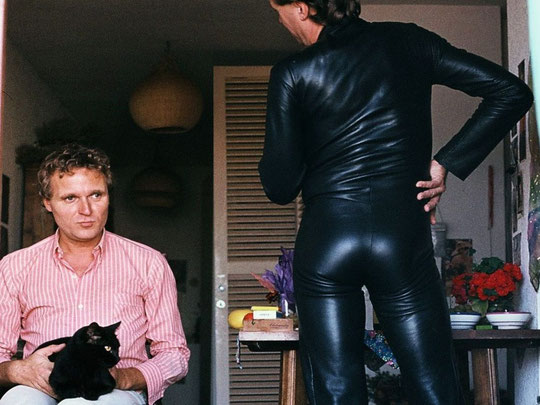 Tied up and handcuffed in black leather · Meditative Bondage 39 ▼

Handcuffs are in Quee and Jiggy's wrestling games an important post-fight tool. They make it clear who has been defeated. Nine diced eyes multiplied by twenty minutes force Uke tightly tied up to three hours of confinement.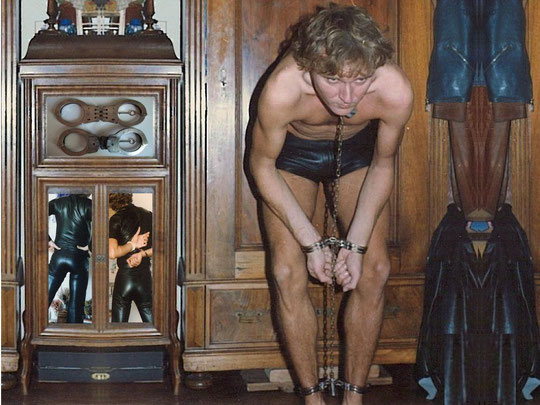 Quality handcuffs are essential for real freaks · Meditative Bondage 40
▼
Only quality handcuffs are worthy adversaries for Quee and Jiggy. They preferably should be made of stainless steel. A simple locking mechanism is okay. In their games Uke may not attempt to free himself. If keys or tools are found on him, he is punished with the cane.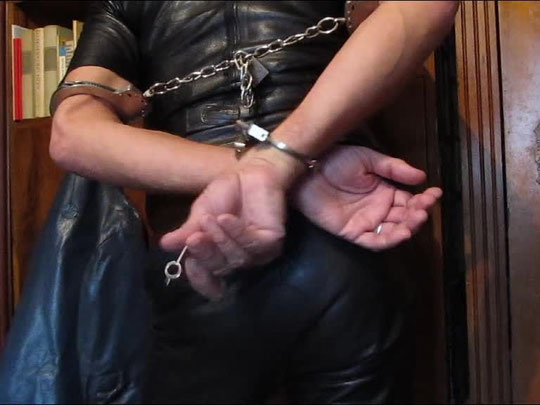 Video clips/Meditative Bondage/
introduction       page 1       page 2       page 3       page 4        page 5