Video clips/Meditative Bondage/
introduction       page 1       page 2       page 3       page 4       page 5
Captivity in handcuffs under a timer magnet deep in the woods   ·  GIF 01:16 ▼
Trailer of Meditative Bondage 44   ·  mp4 09:18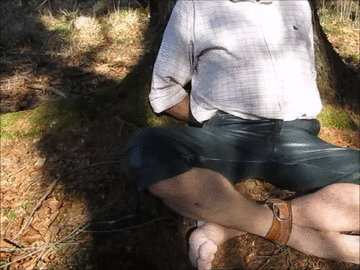 Handcuffed and hooded on Christmas Eve · Meditative Bondage 41 ▼
In the early 70s, the Snakie quartet celebrates Christmas in Ibiza. Quee doesn't want to go to Mass with his friends. He wants to take a nap before supper. This includes self-reflection his own way – handcuffed and hooded in bed. Jig proposes to set the key switch clock. But Quee likes it on Christmas Eve without any means of escape. So Jig takes the key along.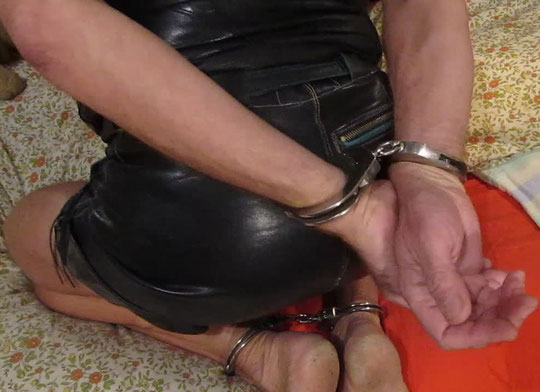 Handcuffed on Xmas Eve  ·  Meditative Bondage 42   ▼
+++ Special Christmas Edition +++

Something is going wrong with Jiggy's new handcuffs on Christmas Eve ...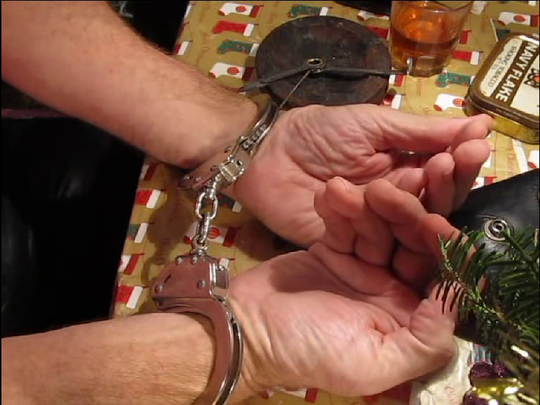 Hooded, you see the dark side of bondage · Meditative Bondage 43 ▼
 Recently published
When we were youngsters, my half-brother Quee and I, Jig, started bondage games with simple methods: Hands tied behind the back and a hood pulled over the head. Later on, steel cuffs replaced cords on the wrists. The feet were tied criss-cross with a leather belt. Thus one had to remain sitting on the floor. Even today, these are sufficient ingredients for an example of inescapable bondage, completed
in two minutes.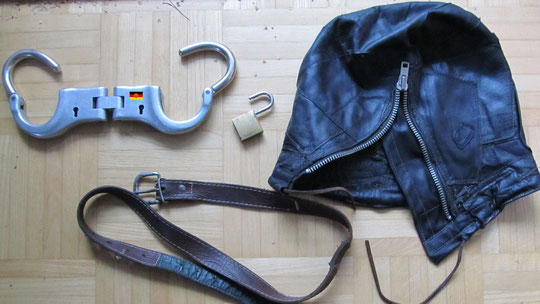 SECRET LIVES
Joy of Living and Nudity in the Eivissa (Ibiza) of the 1970s · Part 1
~  As well on board: Claude Debussy · Golliwogg's Cake-walk  ~
Meditative Bondage · Special edition  ▼
Spain in the seventies – Hippie era · A little gallery, situated in Eivissa D'Alt Vila, Ibiza, Balearic Islands, specialized in photographic art, exhibited important parts of my work · The gallery has disappeared · Its name was SECRET LIVES · Which still goes well with my collection.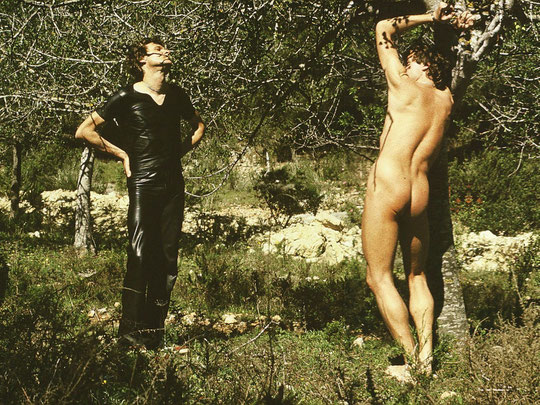 SECRET LIVES
Joy of Living and Nudity in the Eivissa (Ibiza) of the 1970s · Part 2
~  As well on board: Erik Satie · 1ère gymnopédie  ~
Meditative Bondage · Special edition  ▼
The selection shown here corresponded to that exhibited in the gallery in a separate room. The pictures are largely self-explaining. Nevertheless, there was some information on posters. The content at that time is resumed now on Secret Lives ~ The Idea.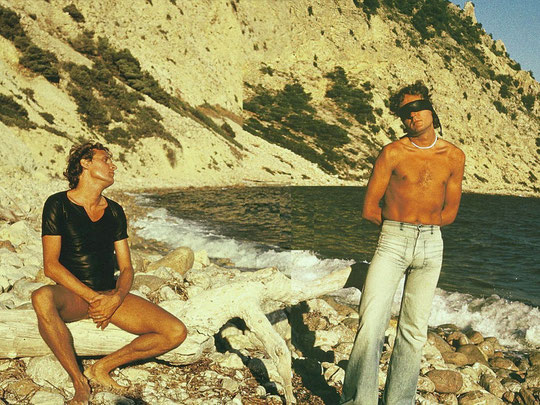 Meditative Bondage 44
Captivity in handcuffs under a timer deep in the woods · mp4 09:18 ▼
Generally, Uke is tied up by Tori. In other words, Tori does it his way. But Uke may ask permission to tie up himself. Of course, sitting there will last a while. At all events, the hands must be cuffed securely behind the back. Tightly enough to prevent Uke from getting the arms in front of the body. That's a basic condition for steady captivity. Tori, controlling the captive, also makes sure that in this position Uke's fingers can't reach the foot strap.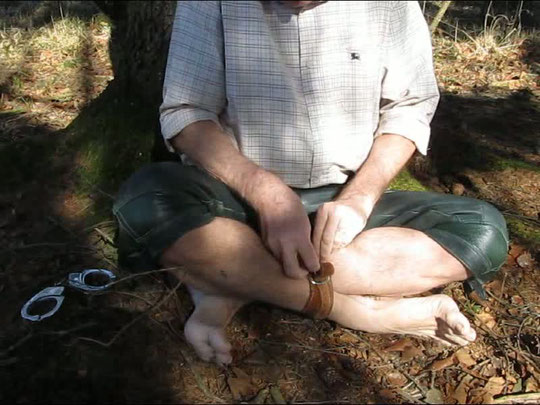 Video clips/Meditative Bondage/
introduction       page 1       page 2       page 3       page 4       page 5