Video clips/Leather pants/
introduction     page 1     page 2     page 3     page 4

                                 Narcissus tightly hand- and footcuffed
     According to Diana's motto, her big boys should get everything that makes them happy, they are not afraid of extravagances. The knee-length green smooth leather pants from the boutique for flippy garments sparkle deep into Billy's soul. He is completely infatuated with the cool panties and succumbs to one of his periodic bouts of narcissism. He chats with himself non-stop. Who knows what all is going through his head. A fair maiden is always there, of course.
     Because of his behavior he gets into a fight with Jig. When he calls his half-brother an asshole, Jig has had enough. He ties Billy to an armchair in the attic and wishes him much pleasure with himself ...
Leather Pants of Diana, Quee and Jig 22▼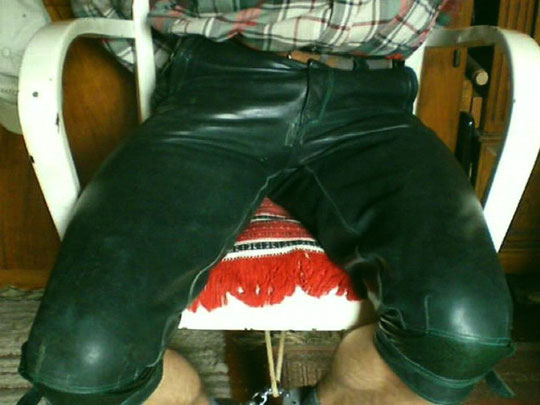 Quee buys again tight leather outfit
Summer 1969 · Diana, Manuel, and Billy still stay in the Principality of Brackelstein · Billy decides to pay a second visit to the capital of Lower Saxony. Alone. His target: the boutique for leather clothing. The same boys as at the first purchase walk in front of him. And squeeze their noses flat in front of the shop window again. Sure, guys without money. He would like to buy them funky shirts. And new leather shorts. The shirts would certainly satisfy them. But they would probably rather have blue jeans than leather trousers. Because leather is going out of fashion. Billy chooses a T-shirt, a long-sleeved jacket and long trousers. All in shiny nappa leather. The T-shirt is made of goat, the jacket and trousers are made of cowhide. The outfit is tight and fits like a glove. Last but not least, he digs out of the most remotest corner two worn-out shorts that had been mended umpteen times. Man, they fit! As if made for him. But when he looks in the mirror, he sees that he had better not dare go out on the street with it ...
Leather Pants of Diana, Quee and Jig 23▼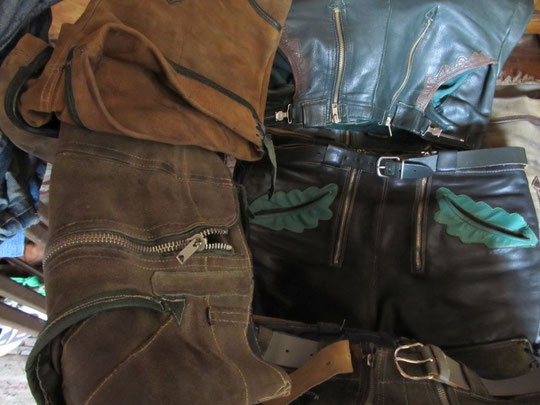 Theatre pooper forced to sit handcuffed in opera
     Summer 1969 · Last vacation days in the principality of Brackelstein for Diana, Manuel, and Billy ·
     "Are you going to walk around in that leather outfit all day today? And turn round in front of the mirror?" inquires Mani. "I'm comfortable with it," Billy replies. "Do you mind?" "Yes, I do mind it! Today THE MARKSMAN is on. A German forest and moonlight musical. We accompany Gertrud and Rudi to Hanover." "Oh, my goodness! I'd rather enjoy the beautiful evening in the moor forest. Tied to a birch tree. Moonlight abounds there. At midnight you may come for me." "I know you enjoy it. Out of the question today, though. As guests of the spa director, we have small duties."
     "Phew! I think I'm getting a migraine." "I don't think so at all. You've never had migraines before." "Can I come with you in leather pants?" "You're out of your mind! Ever heard of the dress code in opera houses? They won't let anyone in without a tie..."   
Leather Pants of Diana, Quee and Jig 24▼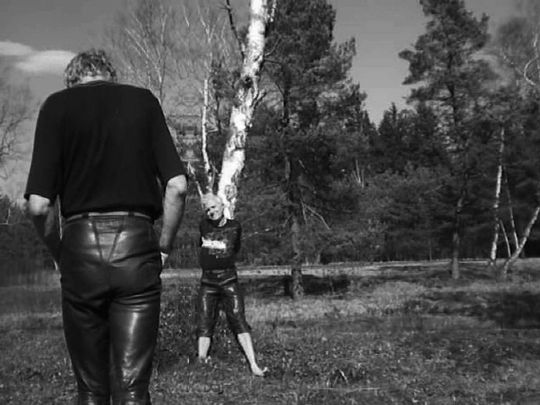 Cuero Mallorquín tailors individual clothing
     February 1969 · Manuel and Billy, alias Jig and Quee, recently started living in Eivissa.
     The mild climate in winter reminds Billy of San Antonio, Texas. Despite low temperatures T-shirt and shorts are sufficient stuff on sunny days. The cool air tingles against your bare legs like champagne. If a cold north wind blows across the sea, long trousers are the better choice.
     The boutique Cuero Mallorquín tailors leather clothes for Jig and Quee. Made of weatherproof, hard-wearing nappa leather. Shape and cut they order according to the size of their Levis jeans, waist 30, length 36. The big boys are almost the same size. Quee has a little more bottom to accommodate in the trousers.
     Jig grumbles, "Don't dent my favourite pants!" Quee counters: "Don't always brag about your little ass! Or you'll risk a caning!"
Leather Pants of Diana, Quee and Jig 25 ▼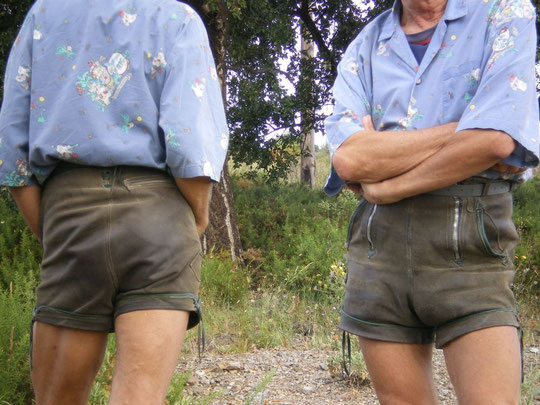 Strong leather stuff for this and that
     Ibiza once offered dirt roads and narrow streets, best suited for off-road vehicles or motorbikes. For motorcycling, the boys order heavy leather clothing.
     The craftsmen at Cuero Mallorquín make a jacket from strong, tough cowhide. A leather suit, 5 kilograms in weight. Riveted. With broad aluminium zips. Most likely apt as an interesting variation in erotic role plays, when stillnesse is enforced.
     Jig suggests, "Let's order another one! With extra-long sleeves. And straps on them. A sort of straightjacket for you, Quee!" "You would like that, me inside, wouldn't you?" Quee replies. But the idea appeals to him. Such a jacket with sewn up sleeves would also tie up Jig without any chance to free himself. A rarity for the Happy Few ...
Leather Pants of Diana, Quee and Jig 26 ▼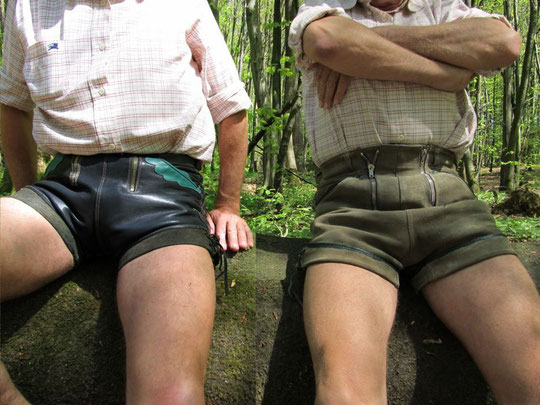 Is someone considered gay wearing leather shorts?
     If one day the novels DIANA and BILLY were to be made into films, their authors would take on the leading roles. According to the Beatles' song: "When I'm sixty four."
     In the warm season, baggy trousers that reach down to the knees are the usual clothing of today's children. The skimpy leather shorts from their parents' and grandparents' youth are familiar to them at best from the photo album. And what, if such a piece is still lying in the attic? Phew, let it gather dust! It would be extremely uncool to wear something like that! At school, you might be suspected of bucking the trend. You might be considered GAY if you wore leather shorts. At the very least, one would be ridiculed ...!
Leather Pants of Diana, Quee and Jig 27 ▼
Quee looks doubtfully at the old story with Isaac

     Quee grows up in Wyoming. In a rural milieu. As a child, he talks more to horses than to people. There are hardly any books lying around on the ranch. Of course, the Bible. In the Old Testament, the boy experiences his first reading adventures.
     He considers the story of Isaac something particularly silly. Why does the dumbass keep still for to be killed? Quee would show his pa, if he were trying to sacrifice him, even if the hands are tied up, how to kick someone so friable in the marbles, that no more boys can be produced as possible victims ...
Leather Pants of Diana, Quee and Jig 28 ▼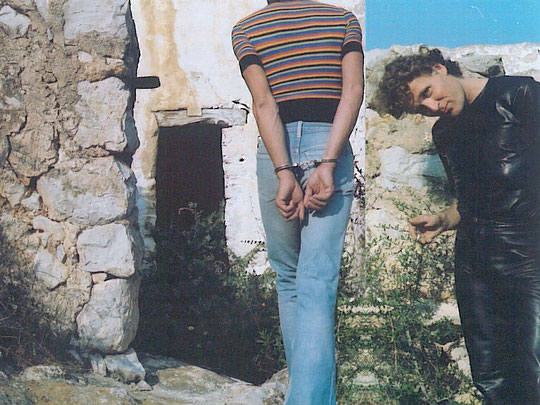 Setbacks in cycling & mathematical nonsense
     It comes to setbacks in cycling. "Man, that's just dumb as a monkey," Jig marvels at Quee's inability. "Mathematically, yes," Quee replies. "Tangent alpha equals V squared divided by R times G..." "What –?" "...calculates the angle of inclination up to which one does not fall. V is the velocity, R is the radius of the curve...", "You're out of your mind!" "...G the acceleration of gravity. That's 9.81 meters on Earth divided by..."
     "Tell me, do you need something much more accelerated on your ass?"
Leather Pants of Diana, Quee and Jig 29 ▼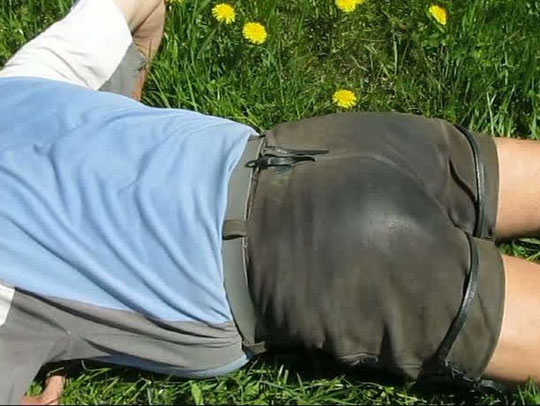 Quee hits Jig while riding backwards on a bike
Quee finds the cycling test silly. But he now rolls confidently over hill and dale. Even riding backwards. Jig suggests a cycling tour lasting several days. Up the Weser. Diana has to translate advertising brochures into English for her father, the spa director. So Jig and Quee go without her.
     They don't need much troublesome luggage. But Jig puts in handcuffs. "In case you get cheeky," he explains to Quee. "Since you don't speak a word of German, I'll call the shots in Germany. Remember what happens to mutineers?" "Yes, Sir! Will dance to your Germanic tune, Sir."
     They stay in youth hostels. In short leather trousers they stand quite lonely. Because all the kids wear jeans. "Leather is out," Quee observes. He is more familiar with contemporary trends than Jig. "Haven't you noticed, Jiggy, which scene uses leather as an identifying mark?" Jig pauses. "Do they think we're gay ...?"
Leather Pants of Diana, Quee and Jig 30 ▼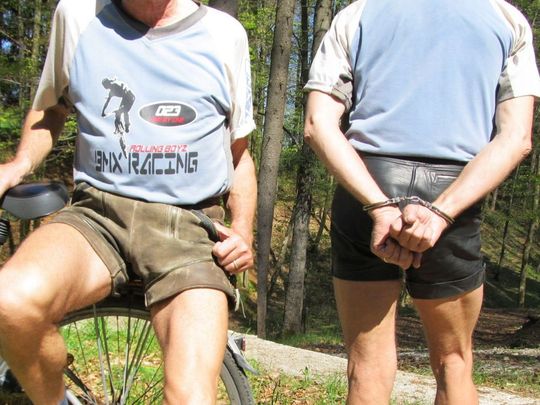 Jiggy wears leather in Ibiza's hippie time
     Ibiza 1969 · Hippie time · Jig works as a translator in a real state agency
     His main business is to draw up sales contracts which may be tricky. Some strange names make him laugh: Madame Henriette Spaghettini, date of birth not specified; Monsieur R. Spaghettini, born May 11, 1899, Le-feu-de-la-Passion, Haut-Savoie, France, interested to acquire Campo Podrido, asking price: 23,000,000 Pts ...
     He likes better to be outdoors establishing first contacts with clients. Those, who are mad on buying a so-called FINCA, old rotten farmhouses in isolated spots. After a visiting tour, quite often clients forget the reason they came for. Some would like to touch Manuel's handsome leather pants. Especially on days when the young man appears in shorts. Some women would like to touch more of the extravagant guy ...
     At this moment his boss and youth friend Federico sticks his bib into the matter. To make the best of a bad job. "Go back to the office!" Federico whispers. "And pull the damned leather pants off! Don't you have other garments? A tie certainly wouldn't do any harm to your narcissistic body. Prepare the bubbly, the cheap one! Must be some left over from last week. Don't forget to clean the champagne flutes. And get a Havana cigar for Señor Santamaria."
     Jig chuckles. He is extraordinarily well paid by his former schoolmate. But he knows, for a longer term an imaginative spirit needs a more adventurous job. He jumps onto his motorbike. "¡A sus órdenes, comandante!"
Leather Pants of Diana, Quee and Jig 31 ▼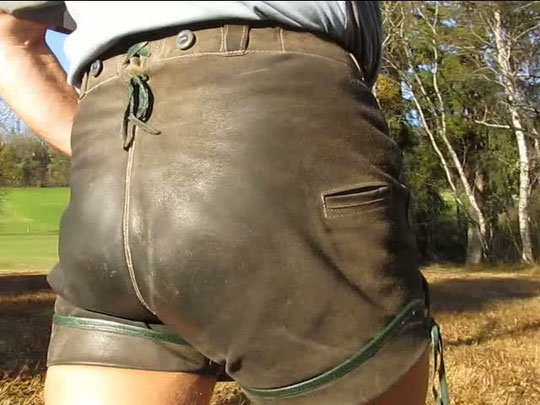 With a million dollar still working like a slave!    
Ibiza 1969 · Hippie time · Billy (nickname Quee) manages the money inherited from his granny who died in Wyoming · Nearly a million dollar · He opened an account in his half-brother's favour transferring to him exactly half of the amount · Manuel (nickname Jig) did not want the money · As he was profoundly convinced, Granny wouldn't have given him anything · Granny didn't like Jig · Because he was a brain-worker · A boy with no muscles is useless on a ranch
     Quee Riley from the Ponderosa ranch was a dyslexic boy. But, although he was two years younger, he had a stronger constitution than Jig. Jig yanked him out of his cowboy dreams. Pushed him to read books. Helped him to write correct English. Pushed him to go to the high school. On his part, Quee pushed Jig. Forced him to fight with him. At first, he could do anything with Jig's body. Until Jig began to fight back. The Spanish boy knew Judo. Twisted Quee's arms painfully. One day, Jig followed him into the woods. Quee did not notice it. Jig crept up to him as silent as an Indian. Caught him in an arm bar. It was like in a kidnapping when Quee was tied up. He did not know that Jig was that good with ropes. That windy day they realized that they had become friends. Being somehow in the same boat.
     Meanwhile, it turned out that Quee and Jiggy are real half-brothers. Therefore, Diana urges Jig to accept the indirect inheritance. Hence there is no need for Jig to work as an employee. Why does he translate rubbish for his school mate Federico? Like a wage slave! Jig was to translate on his own account from now on. According to his principle, ever to keep up with Jig, Quee works as well besides the investment business. Dr. Quee Riley offers hippies in relationship difficulties to determine whether their sex is okay ...
Leather Pants of Diana, Quee and Jig 32 ▼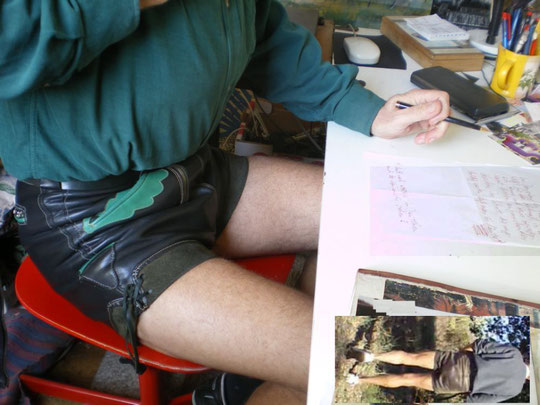 Video clips/Leather pants/
introduction     page 1     page 2     page 3     page 4