Video clips/Tied up for Meditation/
introduction        page 1       page 2     page 3     page 4

Page in progress · Will be finished in September 2020
Tied up for Meditation · Trailer 30 · (01:11)

 Handcuff clock part 6 · Clone this handcuff clock
Will be back end August 2020
 Preview of the clip Meditative Bondage 31  · (09:52)  · AVAILABLE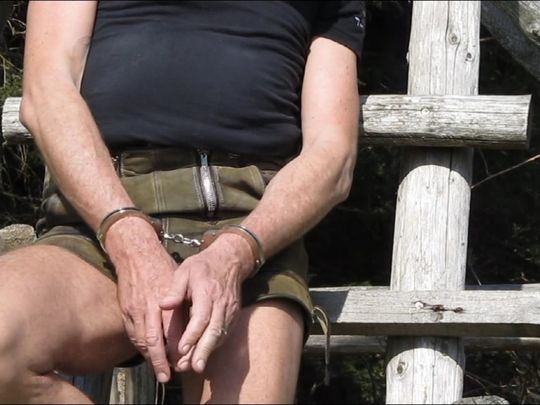 Tied up for Meditation · Meditation bondage sample 01 · (02:27)

Correct position of a simple wrist tie
Will be back end August 2020
 Preview of the clip Meditative Bondage 08  · (09:11) · AVAILABLE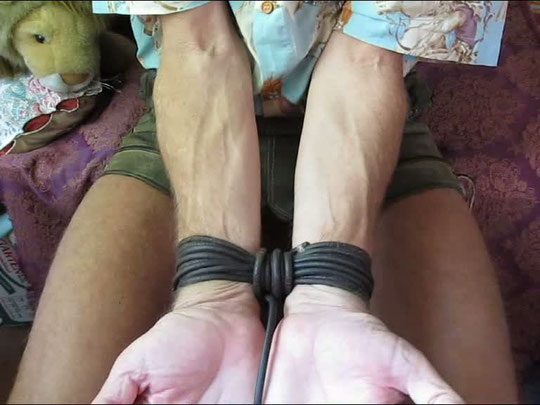 Tied up for Meditation · Meditation bondage sample 02 · (02:01)

Hands tied up with leather thongs behind the back
Will be back end August 2020
 Preview of the clip Meditative Bondage 08  · (09:11)  · AVAILABLE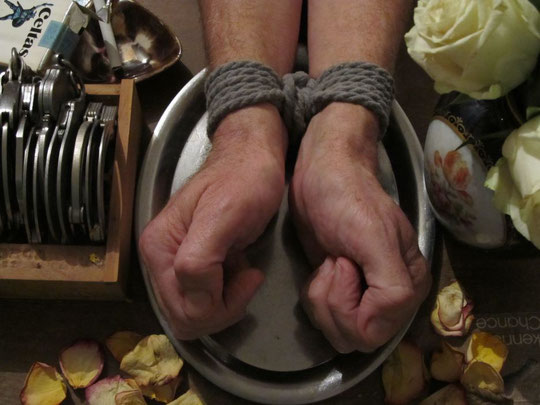 Tied up for Meditation · Meditation bondage sample 03 · (01:55)

Tied up in Lotus position with leather thongs
Will be back in September 2020
 Preview of the clip Meditative Bondage 07  · (08:07) · AVAILABLE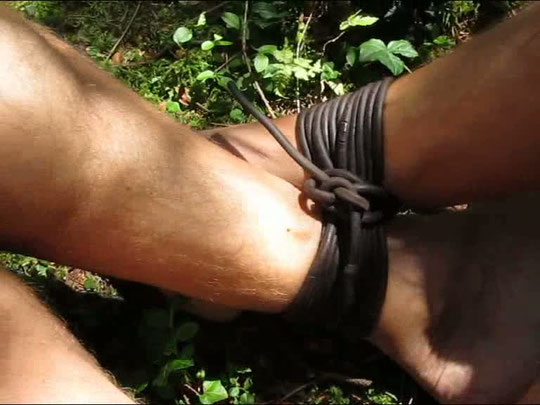 Tied up for Meditation · Meditation bondage sample 04 · (01:39)

Tied to a pine tree · Hands behind the back
Will be back in September 2020
 Preview of the clip Meditative Bondage 09  · (05:10) · AVAILABLE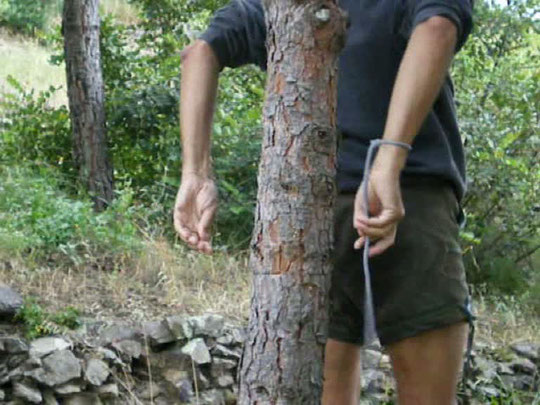 Tied up for Meditation · Meditation bondage sample 05 · (04:31)

With hands tied behind the back walking through woods and meadows
Will be back in September 2020
 Preview of the clip Meditative Bondage 11  · (05:42) · AVAILABLE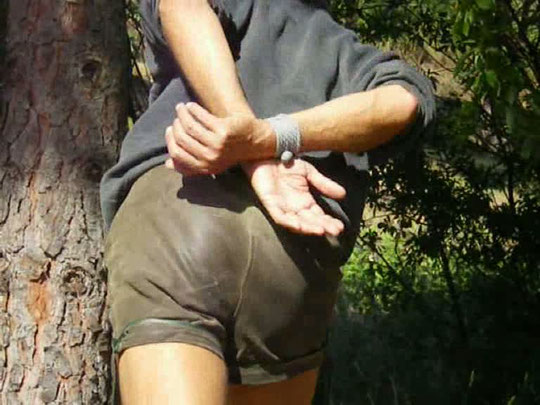 Tied up for Meditation · Meditation bondage sample 06 · (01:40)

Roped hands behind the back · Knees tied together
Will be back in September 2020
 Preview of the clip Meditative Bondage 09  · (05:10) · AVAILABLE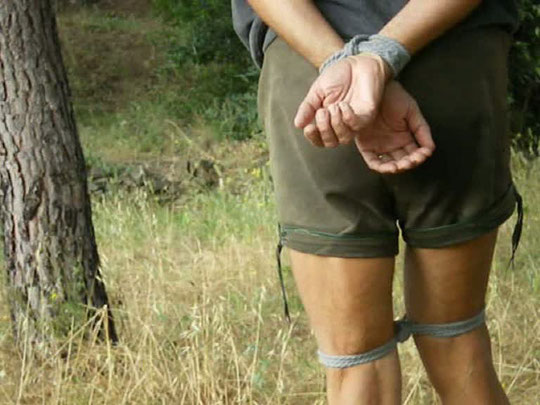 Tied up for Meditation · Meditation bondage sample 07 · (01:34)

Tied to a tree · Hands behind the trunk
Will be back in September 2020
Preview of the clip Meditative Bondage 11  · (05:42) · AVAILABLE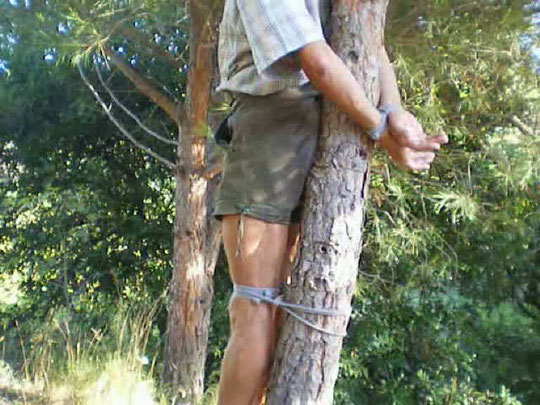 Tied up for Meditation · Meditation bondage sample 08 · (01:34)

Rope release by sharp stones doesn't work
Newcomer in September 2020
Detail of the clip Meditative Bondage 03  · (08:07) · AVAILABLE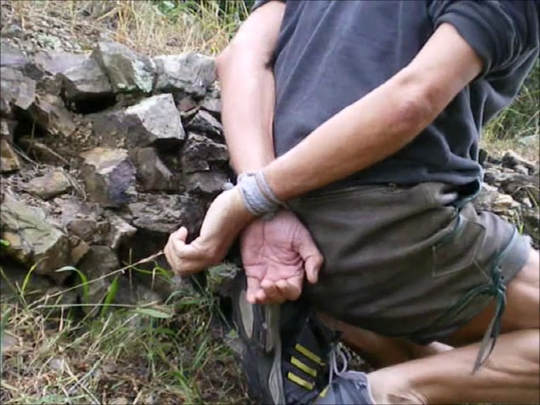 Secret Lives    
Up from the fifties, artists and intellectuals considered the singular Mediterranean island in the sun as an ideal spot for a withdrawn life beyond the political and social upheavals after World War II. This period there was marked by plentiful artistic creation and as well by the peaceful flower power of the hippie era.
     Later on, the eccentric sphere could not hold its ground against the greed of gain in disco scene, drugs, and fun tourism. Some works have survived. Like my photographic art. In those years it was exhibited in the gallery SECRET LIVES, situated in Eivissa D'Alt Vila. The gallery disappeared in the eighties. But the name still goes well with my collection.

     For not violating Internet community guidelines, as in this short clip, over there are only shown incontestable pictures. A large diversified choice is presented on my site under Secret Lives.
Secret Lives · Ibiza · Photo collection of the 70s · Short edition · (01:45)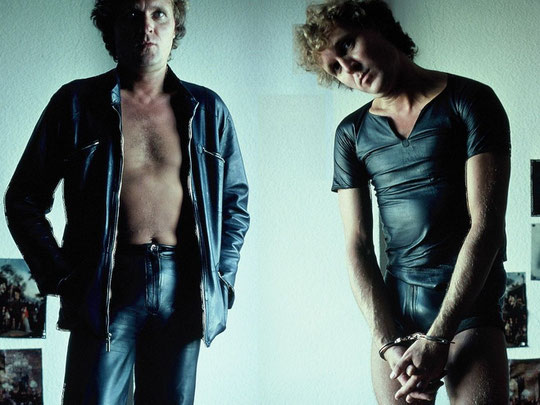 Video clips/Tied up for Meditation/
introduction        page 1       page 2     page 3     page 4